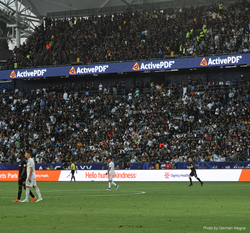 "We honestly cannot wait to exhibit the power of this partnership weaving together the love of soccer with technology, and community involvement." ~ Tim Sullivan, ActivePDF CEO and Chief Architect
LAGUNA NIGUEL, Calif. (PRWEB) July 29, 2019
ActivePDF, the leading provider of PDF automation tools and digital transformation solutions, is pleased to announce an official partnership with the LA Galaxy of Major League Soccer (MLS) for the remainder of the 2019 season. This marks the first time in it's existence that ActivePDF has partnered with an MLS club.
The new partnership presents ActivePDF as the Naming Sponsor of the "Substitutions" image posted on the Galaxy Twitter feed during home and away games that highlight the team's players who are subbed in and out ("Active" and "Inactive" players) of the game.
The partnership also includes a prominent display of the ActivePDF logo and branding within the Galaxy's home field stadium at Dignity Health Sports Park in Carson, California. The familiar ActivePDF logo will appear on running LED boards in the stadium during home matches, on the digital scoreboard, and on static field boards during nationally broadcasted games. For LAGalaxy.com visitors, ActivePDF banner ads will be featured in various locations on the website for both desktop and mobile viewing.
"I can't tell you how extremely excited and proud we are to enter into this partnership with one of the most successful teams in the MLS," says Tim Sullivan, ActivePDF CEO and Chief Architect. "After years of staying mostly locally-based in our sponsorships, an LA Galaxy partnership seemed like the natural next step for ActivePDF. Their commitment to excellence on the pitch and off with their community outreach is on par with the successful mindset and philanthropic ethos we constantly aspire to at ActivePDF."
For nearly 20 years, ActivePDF has introduced businesses around the world to digital transformation through high-volume PDF automation solutions. The partnership with LA's most successful soccer franchise is a dynamic pairing, as the LA Galaxy is celebrating their 25th season in the MLS as one of the league's eight charter members.
ActivePDF's sponsorship with the LA Galaxy for the 2019 season includes:

Galaxy Twitter followers will enjoy the recurring "Substitutions Presented by ActivePDF" posted during home and away games that highlights Galaxy players being subbed in and out.
In-stadium logo placement on LED boards, digital scoreboard graphic, and static field boards.
Strong social media presence and logo inclusion on Galaxy's LinkedIn and Twitter feeds.
Logo inclusion on the official LA Galaxy Partners page.
And more!
The LA Galaxy will join a highly-regarded team of ActivePDF partners and brand ambassadors, which currently includes PGA TOUR winner Charley Hoffman, PGA TOUR Champions winner Scott McCarron, the LA Chargers of the National Football League (NFL), and the Anaheim Ducks of the National Hockey League (NHL).
"We are thrilled beyond measure to be aligned with the LA Galaxy organization," adds Sullivan. "We honestly cannot wait to exhibit the power of this ground-breaking partnership, which will weave together the love of soccer with technology, and a high commitment to community."
ActivePDF's continued support and sponsorships have collectively raised over $1.5M over a 12-month period across different organizations and events, which include the Hoag Classic, Getzlaf Golf Shootout Benefiting CureDuchenne, Warriors With Hope, and Charley Hoffman Foundation.
To learn more about ActivePDF sponsorships, visit ActivePDF.com/Sponsorships.
About ActivePDF
Developers, Product Managers, CIOs, and CTOs partner with ActivePDF to embed digital transformation and powerful PDF tools into their enterprise applications that reliably scale for millions of users. Originally known for providing low-code .NET PDF APIs that create, convert, modify, and view files, ActivePDF has naturally evolved over the years to further provide OCR data capture and intelligent workflow automation solutions within existing business processes. While represented amongst 40% of Fortune 500 companies, the full suite of ActivePDF technologies are currently deployed in industries such as Banking, Financial Services, Government, Healthcare, Legal, Manufacturing, Utilities, and more. Explore everything PDF, visit ActivePDF.com.
About LA Galaxy
The LA Galaxy is an American professional soccer club, based in Los Angeles that competes in Major League Soccer (MLS). It is one of the league's most-decorated clubs, having won the MLS Cup a record five times (2002, 2005, 2011, 2012, 2014) – the MLS Supporters' Shield four times (1998, 2002, 2010, 2011,) and the Lamar Hunt U.S. Open Cup twice (2001, 2005), and is one of just two MLS teams to win the Concacaf Champions' Cup (2000). For more information, visit http://www.LAGalaxy.com.
For additional information, please contact:
Derek Gerber, Global Marketing Director
derek.gerber@activepdf.com
ACTIVEPDF and the ActivePDF Logo are registered trademarks of ActivePDF, Inc. All other trademarks are property of their respective owners.