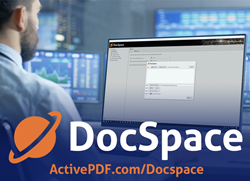 "While I'm proud of the past work we've done, I'm even more excited about what the future holds as we evolve even further with innovative technology." ~ Tim Sullivan, ActivePDF founder and CEO
LAGUNA NIGUEL, Calif. (PRWEB) January 21, 2020
ActivePDF, the leading provider of PDF automation technologies and digital transformation solutions, celebrates their 20-year anniversary in January, 2020, with the release of DocSpace™ providing PDF automation that runs on Windows® PC desktops and servers.
Founded by Chief Architect and CEO Tim Sullivan in 2000, ActivePDF continues to lead the industry in high-volume PDF SDKs and end-user Robotic Processing Automation (RPA) digital document solutions.
Over the last two decades, ActivePDF has developed award-winning Portable Document Format (PDF) developer tools for enterprise-wide automation, including document conversion, modification, compression, OCR, redaction, and more.
The Southern California-based company is the winner of numerous awards for their PDF developer tools, as well as a multi-year winner of Orange County Business Journal's Best Places to Work.
To commemorate the 20-year anniversary, ActivePDF has published an infographic detailing many of the milestones it has achieved since 2000. Click here for the full infographic.
"Twenty years ago, I started ActivePDF with the vision of creating a painless process for Windows developers to integrate high-performance PDF creation, conversion, and manipulation into their server-based applications," says Sullivan. "At that time, our slogan was simple – 'Looking good just got easier.' Now, on our 20-year anniversary, looking good just got easier for everyone! I'm pleased to announce the next evolution of ActivePDF with the immediate availability of DocSpace, our new on-demand and batch no-code solutions for PDF that runs on both Windows desktops and servers. While I'm proud of the past work we've done, I'm even more excited about what the future holds as we evolve even further with innovative technology."
DocSpace key features from other ActivePDF products include:

No-Code Solution: On-demand RPA file management automation runs on Windows PC desktops and servers.
User-Friendly Interface: Easy to install and configure, DocSpace provides users the ability to perform RPA document processing tasks by either drag-and-drop or a simple right-click.
PDF Conversion: Convert to and from PDF without opening the original file or other applications.
OCR and Redaction: Optical Character Recognition (OCR) provides accurate conversion into searchable text PDF documents and Redaction removes and obscures sensitive data within PDF files.
And More!
"I'm extremely appreciative of the businesses, users and partners worldwide that have taken part on this journey thus far," adds Sullivan. "ActivePDF will continue to be at the forefront of the evolution of PDF technology and innovations for many years to come."
To learn more and get started with a free trial, visit the DocSpace product page.
For more technical information on DocSpace, read through the Documentation and Release Notes pages.
About ActivePDF
Developers, Product Managers, CIOs, and CTOs partner with ActivePDF to embed digital transformation and powerful PDF tools into their enterprise applications that reliably scale for millions of users. Originally known for providing low-code .NET PDF SDKs that create, convert, modify, and view files, ActivePDF has naturally evolved over the years to further provide OCR data capture and intelligent workflow automation solutions within existing business processes. While represented amongst 40% of Fortune 500 companies, the full suite of ActivePDF technologies are currently deployed in industries such as Banking, Financial Services, Government, Healthcare, Legal, Manufacturing, Utilities, and more. Explore everything PDF, visit ActivePDF.com.
For additional information, please contact:
Derek Gerber, Global Marketing Director
derek.gerber@activepdf.com
ACTIVEPDF and the ActivePDF Logo are registered trademarks of ActivePDF, Inc. All other trademarks are property of their respective owners.