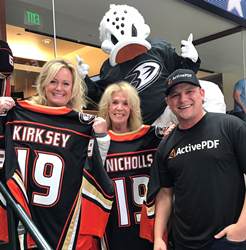 "The main philosophy of ActivePDF and our CEO Tim Sullivan, is that success isn't truly success unless it's shared." ~ Derek Gerber, ActivePDF Global Marketing Director
LAGUNA NIGUEL, Calif. (PRWEB) November 26, 2019
ActivePDF, the leading provider of cutting-edge PDF automation tools and digital transformation solutions, has partnered with the Anaheim Ducks and the Anaheim Ducks Foundation as the presenting sponsor of the ActivePDF Community Champion Award.
ActivePDF and the Anaheim Ducks Foundation will honor the ActivePDF Community Champion on every Anaheim Ducks Sunday home game at Honda Center during the 2019/20 NHL season. At the end of the season, ActivePDF will donate $10,000 on behalf of the Community Champions to the Anaheim Ducks Foundation.
The first Community Champion was recognized on Sunday, October 20, 2019 at the Anaheim Ducks vs. Calgary Flames game. Blake Steinecke was presented with a personalized Anaheim Ducks jersey by ActivePDF Global Marketing Director Derek Gerber.
"The main philosophy of ActivePDF and our CEO Tim Sullivan, is that success isn't truly success unless it's shared," says Gerber. "Recognizing the ActivePDF Community Champion puts that philanthropic spirit into action. We are so thankful and grateful to the Anaheim Ducks and Anaheim Ducks Foundation for providing ActivePDF the opportunity to recognize and reward our community's heroes, many of whom often perform their good works behind the scenes, without any recognition or fanfare. ActivePDF Community Champion award brings these exceptional individuals into the spotlight for a brief moment, where we can recognize and celebrate their exceptional accomplishments."
ActivePDF Community Champions recognized thus far:

– Blake Steinecke – Former member of the USA National Blind Hockey Team, Blake is now pioneering blind hockey programs within the community
– Danny Osalla – Representing the "Anaheim Ducks Learn to Play Hockey" program, Danny is now playing at a high level for OC Hockey Club
– Kimberly Kirksey and Judy Nicholls – Together they have dedicated over 15 years of volunteer service to Orangewood Foundation and 44 Women for Orangewood
The remaining ActivePDF Community Champions will be recognized at the following Anaheim Ducks games at Honda Center:

– December 29, 2019 vs. Philadelphia Flyers
– January 5, 2020 vs. Nashville Predators
– February 23, 2020 vs. Vegas Golden Knights
– March 1, 2020 vs. New Jersey Devils
– March 8, 2020 vs. Minnesota Wild
– March 15, 2020 vs. Montreal Canadiens
ActivePDF is a long-time sponsor of the Anaheim Ducks, contributing their branding to in-game promotions, giveaways, player charity events, and more.
Over the years, ActivePDF has also sponsored and volunteered for Anaheim Ducks Foundation fundraising events, such as the Lady Ducks Fashion Show, Anaheim Ducks Golf Classic, and Dux in Tux, to name a few.
Giving back to the community is a big part of the company's mission with sponsorships and donations to other local organizations, such as Getzlaf Golf Shootout Benefiting CureDuchenne, Warriors With Hope, and Charley Hoffman Foundation.
To learn more about ActivePDF sponsorships, visit ActivePDF.com/Sponsorships.
About ActivePDF
Developers, Product Managers, CIOs, and CTOs partner with ActivePDF to embed digital transformation and powerful PDF tools into their enterprise applications that reliably scale for millions of users. Originally known for providing low-code .NET PDF SDKs that create, convert, modify, and view files, ActivePDF has naturally evolved over the years to further provide OCR data capture and intelligent workflow automation solutions within existing business processes. While represented amongst 40% of Fortune 500 companies, the full suite of ActivePDF technologies are currently deployed in industries such as Banking, Financial Services, Government, Healthcare, Legal, Manufacturing, Utilities, and more. Explore everything PDF, visit ActivePDF.com.
About Anaheim Ducks Foundation
Serves as the Anaheim Ducks' main charitable beneficiary. The mission of the Anaheim Ducks Foundation is to facilitate and support programs that produce positive change for children and families throughout Southern California by providing educational opportunities, broadening access to the sport of hockey and addressing the health and wellness needs of our community. The Anaheim Ducks Foundation raises money at various fundraisers such as the Anaheim Ducks Golf Classic and Dux in Tux, along with a variety of in-game fundraisers. To learn more, visit https://www.nhl.com/ducks/community/anaheim-ducks-foundation.
For additional information, please contact:
Derek Gerber, Global Marketing Director
derek.gerber@activepdf.com
ACTIVEPDF and the ActivePDF Logo are registered trademarks of ActivePDF, Inc. All other trademarks are property of their respective owners.