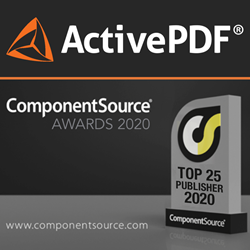 "Because the award is based solely on customer sales, it gives us an even greater sense of pride and confidence in knowing that we are solving the challenges faced by enterprises around the world." ~ Tim Sullivan, ActivePDF Chief Architect and CEO
LAGUNA NIGUEL, Calif. (PRWEB) March 09, 2020
ActivePDF, the leading provider of innovated PDF automation tools and digital transformation solutions, has once again been named to the ComponentSource list of Top Performers for 2020. Known as the world's largest marketplace and community for reusable software components and development tools, ComponentSource has recently revealed their annual awards, with ActivePDF named for both Top 25 Software Publisher and for Top 100 Products for Toolkit, the premier PDF manipulation developer API.
The annual awards are calculated based on real sales orders placed by ComponentSource customers in over 180 countries between the dates of January 1, 2019 to December 31, 2019. Since 2006, ActivePDF has consistently placed in the ComponentSource Top Publisher and/or Product categories.
Toolkit is the original power-packed developer library to create, modify, view, compress, and automate data to and from PDF files within software applications. The Toolkit library contains hundreds of properties and methods designed to tackle most PDF-related tasks.
Adding to their catalog of award-winning products, ActivePDF has recently released DocSpace, bringing developer tools to the non-technical user. Now, anyone with a PC or server can perform and automate a variety of actions including converting Microsoft Office files to PDF, redaction of text and images, compress PDF, and more.
"We're so very proud and honored to be once again named amongst the best software publishers by ComponentSource," says Tim Sullivan, ActivePDF Chief Architect and CEO. "Because the award is based solely on customer sales, it gives us an even greater sense of pride and confidence in knowing that we are solving the challenges faced by enterprises around the world. Being consistently named to this list is the result of over two decades of hard work and innovation – that brings me the most pride. We're very thankful to everyone who turns to us for their PDF needs and we'll continue to create PDF products to help businesses to achieve their ultimate success."
Information on the ComponentSource Bestselling Publisher/Product Award:

– Total sales are based on USD values for all the individual products in their entire product range, aggregated together for sales made to ComponentSource customers worldwide.
– Sales made in non-USD currencies have been converted into USD to get a final total value.
– The list has been sorted and the awards made based on Top 100 publisher ranking achieved.
– The awards are announced in 2020, hence the 2020 in the award name.
– See the full list of ComponentSource Top 25 Publisher Awards and Top 100 Product Awards.
Learn more about the award-winning Toolkit at ActivePDF.com/Toolkit; and the highly-anticipated release of DocSpace at ActivePDF.com/DocSpace.
About ActivePDF
Developers, Product Managers, CIOs, and CTOs partner with ActivePDF to embed digital transformation and powerful PDF tools into their enterprise applications that reliably scale for millions of users. Originally known for providing low-code .NET PDF SDKs that create, convert, modify, and view files, ActivePDF has naturally evolved over the years to further provide OCR data capture and intelligent workflow automation solutions within existing business processes. While represented amongst 40% of Fortune 500 companies, the full suite of ActivePDF technologies are currently deployed in industries such as Banking, Financial Services, Government, Healthcare, Legal, Manufacturing, Utilities, and more. Explore everything PDF, visit ActivePDF.com.
About ComponentSource
ComponentSource is the world's largest marketplace and community for reusable software components for all platforms. The respected barometer for the component industry, ComponentSource pioneered the open market for reusable software components in 1995, and continues to drive the market through its award-winning e-business model and groundbreaking work to establish the first widely accepted reusable component standard.
For additional information, please contact:
Derek Gerber, Global Marketing Director
derek.gerber@activepdf.com
ACTIVEPDF and the ActivePDF Logo are registered trademarks of ActivePDF, Inc. All other trademarks are property of their respective owners.