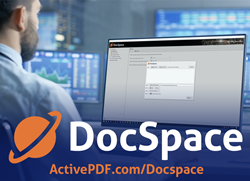 "DocSpace provides these powerful document processing tools to anyone working on a Windows PC or server. Our new vision is to expand on this technology with innovative and creative RPA applications.." ~ Tim Sullivan, ActivePDF Founder and CEO
LAGUNA NIGUEL, Calif. (PRWEB) December 20, 2019
ActivePDF, the leading provider of PDF automation technologies and digital transformation solutions, is proud to announce the launch of DocSpace™ software for digital document modification, featuring Robotic Process Automation (RPA). The official launch of DocSpace will coincide with ActivePDF's 20-year anniversary in January, 2020. ActivePDF will be providing a free license key to try DocSpace from December 17, 2019 to January 17, 2020 during the pre-launch preview program.
Once known for providing award-winning PDF developer tools for enterprise-wide automation, ActivePDF now offers these same tools to end users with no coding necessary, which means virtually anyone can work on their documents without the need for developer skills. With DocSpace, users can complete tasks such as document conversion, compression, redaction, and more with just a few clicks.
"When I founded ActivePDF in January of 2000, the process of converting paper files into digital documents was still in it's infancy," says Tim Sullivan, ActivePDF Founder and CEO. "My vision at that time was to give businesses of all sizes an easy solution to achieve complete digital transformation. Twenty years later, we've accomplished that and so much more – providing companies in the industries of Finance, Healthcare, Insurance, Legal, Government, and more with the ability to perform automated functions, such as document conversion, redaction, and OCR processing. Now, DocSpace provides these powerful document processing tools to anyone working on a Windows PC or server. Our new vision is to expand on this technology with innovative and creative RPA applications. With DocSpace, ActivePDF will continue to be at the forefront of the paper-free revolution."
DocSpace is built upon the award-winning PDF technologies that include high-volume, high-performance PDF manipulation. Features that were once sold separately as developer tools and SDKs are now available as one complete software program with a friendly User Interface (UI).
DocSpace Key Features*:

No-Code Solution: Meet tight deadlines at work and at home. DocSpace runs on-demand 24/7 using simplified RPA to automate file management tasks.
User-Friendly Interface: Easy to install and configure, DocSpace gives users the ability to perform RPA document processing tasks with a simple right-click.
PDF Conversion: Convert to and from PDF without opening the original file or other applications.
OCR Processing: Optical Character Recognition (OCR) software provides accurate conversion into searchable text PDF documents.
Redaction: Confidently remove and obscure sensitive data, text, numbers, and images within PDF files.
Compression: Significantly reduce file sizes while retaining text, image, object fidelity and quality.
Flexible Licensing: DocSpace is available with a variety of licensing options, depending on your needs and budget for personal and enterprise use.
And more!
Try DocSpace for free during the pre-launch window of December 17, 2019 – January 17, 2020, and you can enter to win a free iPad when you participate in the DocSpace Test Pilot Feedback Survey Sweepstakes.
Pricing and Availability:
After the pre-launch trial, DocSpace will be available for purchase direct from ActivePDF. To learn more about all the features and benefits, visit the DocSpace knowledgebase page.
Share this press release on Twitter:
DocSpace by @ActivePDF uses simplified RPA to put users in control of their documents at home, at work, and on-the-go. Get your free trial key & launch into a #paperfree galaxy for 2020! http://bit.ly/2Q1wOZx
#RPA #DigitalTransformation
About ActivePDF
Developers, Product Managers, CIOs, and CTOs partner with ActivePDF to embed digital transformation and powerful PDF tools into their enterprise applications that reliably scale for millions of users. Originally known for providing low-code .NET PDF SDKs that create, convert, modify, and view files, ActivePDF has naturally evolved over the years to further provide OCR data capture and intelligent workflow automation solutions within existing business processes. While represented amongst 40% of Fortune 500 companies, the full suite of ActivePDF technologies are currently deployed in industries such as Banking, Financial Services, Government, Healthcare, Legal, Manufacturing, Utilities, and more. Explore everything PDF, visit ActivePDF.com.
For additional information, please contact:
Derek Gerber, Global Marketing Director
derek.gerber@activepdf.com
ACTIVEPDF and the ActivePDF Logo are registered trademarks of ActivePDF, Inc. All other trademarks are property of their respective owners.
*Some features are subject to availability during the DocSpace Test Pilot Program.