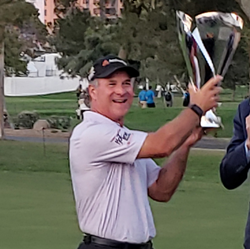 "Whenever I wear the ActivePDF logo, it represents something bigger than a sponsorship. We represent each other as leaders in our industries, our communities, and in our philanthropic efforts." ~ Scott McCarron, 2019 Charles Schwab Cup Winner
LAGUNA NIGUEL, Calif. (PRWEB) November 19, 2019
ActivePDF, a global leader in PDF automation, announces the renewal of their multi-year sponsorship agreement with professional golfer, Scott McCarron. This partnership continues to emphasize the importance of ActivePDF's commitment to community, technology and sportsmanship through collaborative corporate sponsorships.
With 11 overall PGA TOUR Champions victories, McCarron ends 2019 on a high note, winning the Schwab Cup Championship, which is awarded to the year's top money-list winner on the PGA TOUR Champions.
McCarron will continue to wear the ActivePDF logo on the front of his headwear for the entire 2020 and 2021 seasons. In addition, ActivePDF has signed on to become McCarron's sole golf bag sponsor.
The new agreement will continue to establish collaborative work between ActivePDF and McCarron. The partnership will feature a focus on community leadership, charitable contributions, and integration within the PDF technology space.
"ActivePDF is proud to extend our partnership with Scott McCarron through 2021," says Tim Sullivan, CEO and Chief Architect at ActivePDF. "We look forward to continuing our long-standing relationship with Scott. As with all of our sponsorships, we've transcended a business partnership into more of a personal relationship. Scott is and always will be an integral part of the ActivePDF family."
Partners since 2015, ActivePDF and McCarron approach the coming years with optimistic enthusiasm as a guiding force for a partnership that continues to set a high standard for corporate sponsorships, athletes, and their brands.
"Extending my contract with ActivePDF and the addition of the bag sponsorship puts an exclamation mark on an already incredible year," says McCarron. "My affiliation with Tim Sullivan and ActivePDF is as important to me as any trophy on my shelf because of the confidence it gives me knowing that my brand is always represented in the most positive way. Whenever I wear the ActivePDF logo, it represents something bigger than a sponsorship. We represent each other as leaders in our industries, our communities, and in our philanthropic efforts."
Three PGA TOUR Champions victories, including Mitsubishi Electric Classic, Insperity Invitational, and Mastercard Japan Championship
Winner of the Charles Schwab Cup Rankings with a winning total of $2,534,090
14 Top 10 Finishes
5th place in driving distance – 291.1 feet
3rd place total driving rank
5th place for number of birdies (331)
Along with donning the ActivePDF brand logo on his headwear and golf bag, McCarron will also participate in promotional appearances, meet-and-greet style events, and golf outings with ActivePDF partners. McCarron completes the team of ActivePDF brand ambassadors, which includes PGA TOUR winner Charley Hoffman, NHL's Anaheim Ducks, NFL's Los Angeles Chargers, and MLS's Los Angeles Galaxy.
About ActivePDF
Developers, Product Managers, CIOs, and CTOs partner with ActivePDF to embed digital transformation and powerful PDF tools into their enterprise applications that reliably scale for millions of users. Originally known for providing low-code .NET PDF APIs that create, convert, modify, and view files, ActivePDF has naturally evolved over the years to further provide OCR data capture and intelligent workflow automation solutions within existing business processes. While represented amongst 40% of Fortune 500 companies, the full suite of ActivePDF technologies are currently deployed in industries such as Banking, Financial Services, Government, Healthcare, Legal, Manufacturing, Utilities, and more. Explore everything PDF, visit ActivePDF.com.
For additional information, please contact:
Derek Gerber, Global Marketing Director
derek.gerber@activepdf.com