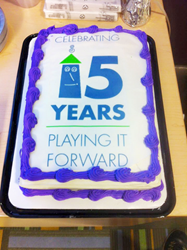 Norwalk, CT (PRWEB) March 11, 2015
The March weather isn't the only thing coming in like a lion. There will be lots of noise around the celebration of the official birthday of Stepping Stones Museum for Children on Wednesday, March 11 with activities all day long from the museum's usual opening at 10 a.m. and closure at 5 p.m.
Radio station Star 99.9 joins in the celebration broadcasting live from the museum from 11 a.m. to 1 p.m.
Birthday activities include a one-of-a-kind handmade pull-string piñata with lots of cool stuff (no candy or edibles). Children will join in all the fun by drawing and decorating birthday cakes and making BooZoo™ party hats. BooZoo, the Stepping Stones cuddly mascot for literacy, will also make a guest appearance at all events in the museum that day, including Toddler Tales, Music Time, Looking Up and Zumba Kids!
Around 12:30 p.m., visitors will be treated to cupcakes to add to the festivities, including gluten-free cakes as well. And of course, what would a birthday be without a card? All visitors can sign a giant birthday card to Stepping Stones: 15 and "Playing it Forward!"
As part of the museum's award-winning Around the World program in March, everyone will be visiting "The Last Frontier," the third stop in the 12-month tour of historic regions throughout the USA in 2015.
At 2 p.m. Saturday, March 7, Around the World: Creative Kids educators offer a program called "Ice is Nice." Learn about glaciers and what everyone can do to take care of the environment. Experiment with ice and make a poster to remind everyone what can be done for the world. The following Saturday, March 14, also at 2 p.m., visitors will meet a real wolf named Atka who lives at the Wolf Conservation Center in South Salem, NY. Members of the Center will teach about the mythology, biology and ecology of wolves in North America.
On the last Sunday of the month, March 29, visitors can participate in the newest Around the World program: Show Me a Tale at 1:30 p.m. Using watercolor and crayons, children can draw and paint an illustration of the story, "How Selfishness Was Rewarded," a tale from the Tlingit Tribe of Alaska.
From 6-8:30 p.m. on Friday, March 20, the museum will read The Original Curious George for the Storybook Pajama Party. Visitors voted last fall for the museum's next Storybook Pajama Party and this mischievous monkey won. So visitors will meet Curious George, read the original story and participate in some really "curious" activities that may worry the Man in the Yellow Hat. Registration is required, and early-bird registration will be held through March 18. During early-bird registration for members, the cost is $10 per person. For non-members, it's $15 per person. During regular registration, members pay $12 per person and non-members pay $17 per person.
Before visiting, check the calendar online for the latest times and activities: http://www.steppingstonesmuseum.org/calendar
Editor's note: All "Around the World" activities are always free with admission. Event and programs are free with museum admission unless otherwise indicated.
About the company:
Stepping Stones Museum for Children is an award-winning, private, non-profit 501 (c) (3) children's museum committed to broadening and enriching the lives of children and families. Stepping Stones Museum for Children is located at 303 West Ave., Norwalk, CT, exit 14 North and 15 South off I-95. Museum hours are: Labor Day through Memorial Day, Tuesday—Sunday and select holiday Mondays from 10 am-5pm; and Memorial Day through Labor Day, Monday-Sunday from 10 am-5 pm. Admission is $15 for adults and children and $10 for seniors. Children under 1 are free. For more information about Stepping Stones, to book a field trip or schedule a class, workshop or facility rental call 203-899-0606 or visit http://www.steppingstonesmuseum.org.