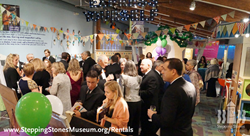 From the galleries and exhibits to the outdoor gardens and park, inspiration for the ultimate event awaits in every nook and cranny!
Norwalk, CT (PRWEB) April 28, 2015
Stepping Stones is now doing birthday parties and event rentals like no other. A party at Stepping Stones isn't just exciting — it's unforgettable. And best of all, it's not just for children. From professional events to weddings or Bar/Bat Mitzvahs, Stepping Stones is one of the top premier party locations in Fairfield County.
Stepping Stones has hosted Stew Leonard's, Tauck Tours, GE and many others. With the recent addition of a performance stage and interactive floor projection technology, the Multimedia Gallery is a fantastic party destination.
From themed parties to just cocktails, from dinner and dancing to multimedia presentations, Stepping Stones provides one of the most interesting venues for ageless fun.
The Light Gallery is a totally unique, transitional space able to stand alone for cocktail parties and receptions, or to enhance the flow of an event by integrating into the main event. The Gullquist Family Celebration Courtyard is one of the most versatile spaces at the museum. It's been the site of community events, rock concerts, Bar/Bat Mitzvahs and even a movie set. Kids love it. Teens dig it. And grown-ups think it's totally cool. For a distinctive magical effect visible from I-95, the twin-peaked tent can capture the essence of each special occasion in lights.
Stepping Stones Museum for Children is where birthday parties become birthday celebrations! Everyone will "ooh" and "ahh" over incredible and unique new exhibits, exciting experiences, engaging staff and so much more.
Every party includes museum admission for up to 30 children and adults (per Fire Marshall Regulations), exclusive use of a party room for two hours, a Stepping Stones t-shirt for the birthday child and assistance unloading and loading your car. Consider an "all-access" party and have the museum all to yourselves!
After booking a party, get ready for an event that makes kids – and parents – smile from ear to ear. The Stepping Stones team is dedicated to making everyone's special occasion be everything they want it to be. They are prepared to meet everyone's needs.
About the company:
Stepping Stones Museum for Children is an award-winning, private, non-profit 501 (c) (3) children's museum committed to broadening and enriching the lives of children and families. Stepping Stones Museum for Children is located at 303 West Ave., Norwalk, CT, exit 14 North and 15 South off I-95. Museum hours are: Labor Day through Memorial Day, Tuesday—Sunday and select holiday Mondays from 10 am-5pm; and Memorial Day through Labor Day, Monday-Sunday from 10 am-5 pm. Admission is $15 for adults and children and $10 for seniors. Children under 1 are free. For more information about Stepping Stones, to book a field trip or schedule a class, workshop or facility rental call 203-899-0606 or visit http://www.steppingstonesmuseum.org.