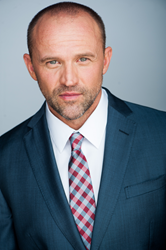 LOS ANGELES, CA (PRWEB) February 17, 2019
The world's bestselling author James Patterson cast actor Cory Tucker ("Transformers 3: Dark Side of the Moon," "NCIS," "True Blood") in the lead role of Detective 'Caleb Rooney' for the new fictional thriller, "The Chef," which features a first of its kind multimedia interactive-fiction experience, available exclusively on Facebook Messenger. Blurring the lines of fiction and reality, Tucker has been featured in photos and videos, bringing the book to life in app-based storytelling for the revolutionary online marketing campaign leading up to the Little, Brown and Company (Hachette Book Group) hard copy book release on February 18, 2019.
Patterson, who has more than 3.4 million followers on Facebook, said in a statement, "Ten years ago, if you told me I'd see one of my novels come to life through scrolling chat bubbles, video and audio content, I would have laughed. But exploring new ways to connect with fans is important to me and Messenger's experience for 'The Chef' not only makes the story more accessible to readers across new generations, but offers an enticing and thrilling read like never before."
Tucker says, "Being seen online as James Patterson's newest protagonist, police detective 'Caleb Rooney,' has been an honor and a mind-blowing experience! I've represented the book character in videos and even my alter ego's own Instagram account: @killerchef_nola."
Users simply hit "send message" on the Facebook page for The Chef by James Patterson to get started, and then click on the knife icon to continue reading.
Patterson is first author to publish a full-length work exclusively on Facebook. Since October, 30, 2018, Messenger users have been able to delve into the book's New Orleans-set storyline and engage with characters, locations and clues via interactive video and sound clips.
The book-movie hybrid experience poses an interesting question as to whether this will be a new trend in the publishing and online marketing industries, also opening up a whole new niche for actors to portray book characters—as if they are real people with their own social media platforms.
"It's very exciting to see an author as renowned as Patterson pushing the limits of his craft to bring new forms of entertainment to his fans," said Erin Murray Manning, head of influencer partnerships at Facebook, said in a prepared statement.
To read the book via Messenger and experience all the bonus multimedia is estimated to be approximately a 3-hour journey.
Tucker will next be seen co-starring in Apple's upcoming American drama web television series "The Morning Show," along with Reese Witherspoon, Jennifer Aniston, Steve Carell and Billy Crudup, as well as a starring role as "Charles" in the action / sci-fi / thriller sequel, "The Agent II." He most recently guest starred opposite Wilmer Valderrama in the CBS hit series "NCIS." Other upcoming projects include "The Oath," which he wrote and will direct.
"The Chef" Synopsis
Police detective by day, celebrity food truck chef by night, now Caleb Rooney has a new title: Most Wanted. In the Carnival days leading up Mardi Gras, Detective Caleb Rooney comes under investigation for a murder he is accused of committing in the line of duty—as a Major Crimes detective for the New Orleans Police Department. Has his sideline at the Killer Chef food truck given him a taste for murder? While fighting the charges against him, Rooney makes a pair of unthinkable discoveries. His beloved city is under threat of attack. And these would-be terrorists may be local.
About Cory Tucker
Cory Tucker is an actor / motivational speaker best known for playing "Buzz Aldrin" in "Transformers: Dark of the Moon." His actor's filmography also includes Michael Bay's "Pearl Harbor." His most notable television work includes guest star appearances in "NCIS," "The Orville," "Bones," "Longmire," "The Closer" and "True Blood."
Cory Tucker's social media links are: IMDB, Instagram, Twitter and Facebook.
Links:
"The Chef" Teaser Video: https://www.facebook.com/JamesPatterson/videos/497485677413331/
"Caleb Rooney" Instagram: https://www.instagram.com/killerchef_nola
Detective Caleb Rooney - Terrorist HQ: https://youtu.be/S8YO9bYe564
Detective Caleb Rooney Interrogation - Day 1: https://youtu.be/AZ6E__d-zSs
Detective Caleb Rooney Interrogation - Day 3: https://youtu.be/Irvu7uIlee0
Cory Tucker Website: corytucker.net