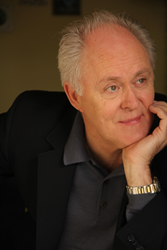 Political junkies and literary fans, rejoice!
SAN RAFAEL, Calif. (PRWEB) September 27, 2019
Award-winning actor and best-selling author John Lithgow discusses his life, career, and new book: "DUMPTY: The Age of Trump in Verse" in an on-stage conversation followed by a Q&A with KQED Forum's Michael Krasny, in association with Copperfield's Books at the Osher Marin JCC in San Rafael.
In DUMPTY, Lithgow wields a whip-smart, satirical pen in this poetic diatribe chronicling the last few years in politics. With lacerating wit, he takes readers verse by verse through the history of Donald Trump's presidency, lampooning the likes of Betsy DeVos, Anthony Scaramucci, Scott Pruitt, Paul Manafort, Trump's doctors, and many others. Illustrated from cover to cover with Lithgow's never-before-seen line drawings, the poems collected in DUMPTY draw inspiration from A. A. Milne, Lewis Carroll, Edward Lear, Rodgers and Hammerstein, Mother Goose, and many more. A "YUGE" feat of laugh-out-loud lyrical storytelling, this hilarious and timely volume is bound to bring joy to poetry lovers, political junkies, and Lithgow fans.
What: An on-stage conversation
Seating: General Admission
Tickets: $45 Advance || $50 at door (if seats available)
Price includes a copy of DUMPTY
When: Thursday, Oct. 31, 2019 at 7:30 p.m.
Timing: 6:30 p.m. – Concessions/Will Call Open
6:45 p.m. – Doors Open
7:30 p.m. – Program Begins
Where: The Osher Marin JCC, 200 North San Pedro Road, San Rafael.
Parking: Ample free parking | The Osher Marin JCC is 1/2 mile E off 101.
John Lithgow is a celebrated actor and best-selling author. His numerous awards include two Tonys, six Emmys, and two Golden Globes. He has been nominated for two Oscars, four Grammys, and many additional awards for his dramatic and comedic acting. Lithgow has starred in a number of hit television shows including 3rd Rock from the Sun, The Crown, and Dexter, and in beloved films such as The World According to Garp, Shrek, and Terms of Endearment. He is the author of 11 previous titles, including a memoir and a series of bestselling children's books. He lives with his wife in Los Angeles and New York.