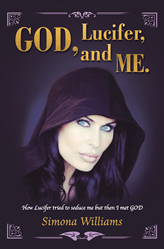 "Don't be afraid to listen to your soul—it knows the difference between right and wrong. You can resist temptation by trusting in God's love, as I have!" - Simona Williams
LOS ANGELES (PRWEB) November 11, 2019
In May of 2004, actress Simona Williams was lying in her bed, half-awake, when she was suddenly transported to another dimension. There, she found herself standing directly in front of God, able to see Him and feel His love for her and pain for humanity. This transformative experience is one of numerous enlightening encounters she has shared with God and his angels as well as Lucifer and his demons, detailed in her new memoir, "GOD, Lucifer and Me: How Lucifer tried to seduce me but then I met GOD." Acclaimed actor Sylvester Stallone has praised her memoir as an "amazing firsthand insight into another dimension."
For her whole life, Williams always had a deep longing to speak directly to God and experimented with her newfound connection to a different dimension through a game called "Spirit in the Glass." However, she quickly realized her curiosity would come at a cost. After playing the game one too many times, Lucifer, who Williams refers to as "L," began to make unwanted appearances in her life.
Through visits from demons and ghosts by night and L's terrifying and unannounced appearances in her life, it became crystal-clear to Williams that Lucifer would be unrelenting in his attempts to keep her from God and take her soul for himself. Williams vividly describes her many encounters with L, from appearing in her bed at night to showing her visions of her joining his side and even altering her loved ones' appearances.
Williams' contact with God's archangels as well as her fearless and steadfast faith in Him eventually defeated L's powerful attempts at seduction. During one of her glorious meetings with God, He channeled a message through her, describing to Williams her own life purpose, who God really is, what happens when our souls depart our bodies and a warning to those who continue to give in to Lucifer's temptation.
Now, Williams wants the world to pay attention to Lucifer's sinister influence over God's children and learn how to turn away from it. "L always came to me as a handsome and alluring man," she said. "He can attract us and draw us in until we are so far removed from God that humanity as we know it may cease to exist. But don't be afraid to listen to your soul—it knows the difference between right and wrong. You can resist temptation by trusting in God's love, as I have!"
"GOD, Lucifer and Me: How Lucifer tried to seduce me but then I met GOD"
By Simona Williams
ISBN: 9781982232689 (softcover); 9781982232672 (hardcover); 9781982232696 (electronic)
Available at Balboa Press, Amazon and Barnes & Noble
About the author
Hailing from Denmark, Simona Williams graduated law school with a juris doctorate then moved to Los Angeles to pursue her acting career. Williams has appeared in more than 18 feature films and TV shows including "Jane the Virgin," speaks five languages and continues to work on upcoming movies. This is her first book.
For Interview & Review Copy Requests Contact:
LAVIDGE – Phoenix
Kalin Thomas
480-648-7540
kthomas(at)lavidge(dot)com