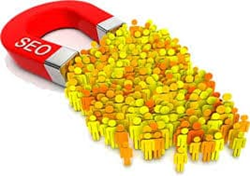 The more often a business is in the public eye in a positive light, the more sales leads will come.
HOUSTON (PRWEB) November 25, 2021
Successful businesses understand how they find consumers and turn them into customers. Actual SEO Media, Inc. can offer some tips about lead generation that may help businesses optimize their current system.

For businesses starting out or businesses dipping into a new market, one of the best ways to generate leads is to get to know the people that could become potential customers.
1. LinkedIn
Build a presence on LinkedIn. LinkedIn is a business-friendly social media platform that allows people to network with others or even broker new deals. Investing in a Premium membership will also allow the account holder to see everyone who has viewed the business profile.
2. Customer Reviews and Case Studies
Businesses can acquire a wealth of information from customer reviews and case studies. Search for studies relevant to the business's products or services to help those items stand out to the crowd. Reading testimonials from previous customers will also aid in figuring out what was done right and what can improve. Not to mention, keeping a grip on the company's online reputation and management will save from future hardship.
3. Referrals
Regardless of what the business specializes in, spread the word. Ask for referrals from family, friends, and acquaintances. Let people know what the business does and what it offers. Even if the people you tell don't need the services, they may know someone.
4. Frequency
Always follow up on potential leads. It usually takes more than once to turn a "potential" lead into an actual one. After making the first contact, set time aside a week or two later to touch base with them again.
Make the business visible to its potential clientele. Be active online and in the community. The more people see and hear about a business's branding and marketing, the more they can trust it.
1. Local Events
Whether the business attends or sponsors a local event, it's one way to interact with the community. Set up a table, hand out pamphlets, or hold a giveaway. Buy uniforms for a Little League team or have a banner at a local community garage sale.
Regardless of which way a business decides to interact with the local community, it's always good to show up for the events in person. It allows for people to see and speak with the business representative themselves and know the business better.
2. Local Publications and Articles
Although one way to gain visibility is to buy ad space in local newspapers, there are more cost-effective ways. There are many free publications available to the public. It's just a matter of finding ones that'll fit with the business's niche.
Businesses can also invest in article writing and blog posts about a topic relating to their business. Whether it's to inform or give general tips to the community, it's another way to get the business's name and brand out there.
3. Community Service and Volunteering
Choose a group that's related to the business. Volunteer with them to get the word out and build a positive reputation. The more people see that the business cares, the more the word will spread.
People are always in a hurry and want quick answers. Ensure that the business website has a phone number and email available. It's even better if there's a live chat function that allows users to ask quick questions anonymously.
Even speaking with customers can help tailor a business's lead generation to a specific customer niche. Knowing what drew customers in the first place is beneficial. With this information, a business can separate leads for each marketing push.
Harness the power of social media services and platforms. A website won't generate leads on its own. Having social media accounts linked to it will attract potential users on the wider web and increase exposure.
Search Engine Optimization
Speaking of websites, one of the best ways to continuously generate leads in the long term is search engine optimization (SEO). Optimizing a website to appear further up Google's search results page will allow users to see the company more often. By targeting a niche set of keywords, users searching those words are more easily led to a relevant business's website.
As a leading SEO company in Houston, Actual SEO Media, Inc. helps clients to expand their online presence. By using a variety of SEO techniques and utilizing Google's pay-per-click ads, the company aims to maximize clients' search engine optimization and widen their clients' scope of recognition. For more information, follow the company on Facebook and LinkedIn, contact the office at (832) 834 - 0661, or by email at: info@actualseomedia.com.