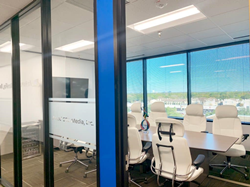 THE WOODLANDS, Texas (PRWEB) December 10, 2020
This local Houston company has years of experience and spans over five locations, now six, since expanding into The Woodlands. They utilize numerous strategies that are able to keep their client's business ranking high on popular search engines like Google. The new The Woodlands location will work hand in hand with the other locations to bring much-needed SEO strategies to The Woodlands area.
The Woodlands is a fast-growing community that will need the help of new and growing businesses. Since The Woodlands is known as the "Invisible-City" it can be challenging for companies to get the exposure they need to grow. With this new location Actual SEO Media, Inc. can better serve The Woodland's community and help various businesses in the area thrive.
From PPC to SEO, teams like Actual SEO Media, Inc. fulfill a special role that will help boost company rankings in The Woodlands Texas area. Some of the services that will be offered at their new location are:

SEO
Content Writing
Website Development
Client Support
PPC
They hope that this location will benefit the lives of business owners whether they have a large or small company. This new location is a big step for Actual SEO Media Inc. and equally as big of a step for those they help in the community. Although businesses during this time are struggling, Actual SEO Media, Inc. is a prime example that growth can still be had for businesses in the Houston area.
Actual SEO Media, Inc. contributes their success to their team and the skills that they bring using essential SEO strategies that have allowed them to grow within this time. They hope that this new location will provide them with the opportunity to set up other businesses in the area for success with their digital marketing campaigns.
About Actual SEO Media Inc.
Actual SEO Media Inc. has been serving the Greater Houston Area for about 8 years. With nearly a decade of experience, they are made up of a full in-house team that assists various businesses throughout Houston.
No matter the location, Actual SEO Media, Inc. houses digital marketing specialists that raise any companies rankings. No matter the scale: national, global, or local, Actual SEO Media, Inc. brings a new level of success to businesses around the world. Services expand way beyond the Woodlands location and out into a global scale. Actual SEO Media growing into a staple Greater Houston business aids in creating a brighter future for all companies around the globe.
To learn more about the new Actual SEO Media, Inc., visit their Woodlands location, follow them on LinkedIn, email info@actualseomedia.com or call (713) 201-7666.