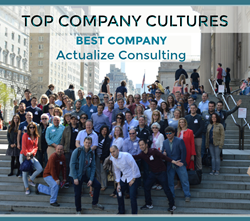 "We have created a thriving organizational culture—a culture that has led our company turnover rate to drop from 33% to less than 1% from 2016 to the present," says Kerry Wekelo.
RESTON, Va. (PRWEB) October 02, 2018
Actualize Consulting's newly hired Jack Su experienced the company's positive culture immediately and had this to say, "Two short weeks after joining Actualize Consulting, I already feel the difference in the corporate culture. People are helpful, friendly, and the management truly cares about the employees' well-being. It's a great feeling that employees are being treated with respect and seen as the company's asset instead of being a liability."
Actualize's strong culture materialized when HR Director Kerry Wekelo proposed a people-centric approach with an emphasis on wellness; utilizing mindful protocols throughout the company. Communication, team connection, personal wellness, and even life/work balance were all addressed. "This resulted in 9 principles that have given our company the space to create and maintain a thriving organizational culture—a culture that has led our company turnover rate to drop from 33% to less than 1% from 2016 to the present," says Kerry Wekelo.
These impressive results did not go unnoticed by partners Chad Wekelo and Matt Seu. "We couldn't have done it without the unique focus on personal and team growth and achievement that Kerry has created," says Matt Seu. They encouraged Kerry to write a book, Culture Infusion: 9 Principles to Creating and Maintaining a Thriving Organizational Culture and asked her to share this successful in-house program with their clients and at their annual team-building retreat.
Entrepreneur, along with Energage also took notice in their search for companies with high-performance cultures across the U.S. Their criteria was vigorous; employee surveys focusing on 24 factors across seven areas: alignment, effectiveness, connection, management, engagement, leadership and basics, including pay, benefits and training were distributed. "Our team's willingness to participate and the positive survey results helped us win this recognition. It is a testament to our people wanting to be a part of a firm that focuses on their aspirations. I am grateful for their support," says Kerry Wekelo.
Chad Wekelo, Founding Partner of Actualize Consulting reacts, "Having a Culture Infusion program as the cornerstone of our company has created a thriving organizational culture with dedicated team members and leaders understanding the value of focusing on our people. This is one of the reasons we continue to achieve positive results and are able to provide the highest level of service to our clients. It is an honor to receive this recognition from Entrepreneur Magazine."
Actualize Consulting is a professional services firm specializing in business process engineering and technology implementations for financial institutions. With offices in US (New York and Northern Virginia), Canadian, and the UK (London) Actualize is able to effectively serve the ever-changing pulse of the Capital Markets, Treasury, Mortgage and Fixed Income areas. Actualize Consulting works with mortgage firms, banks, insurance companies and other financial institutions, Federal and State Government, as well as specific activities of Fortune 1000 firms.
Visit http://www.actualizeconsulting.com/ for Financial Services
Or http://bit.ly/9_Principles to learn more about Culture Infusion