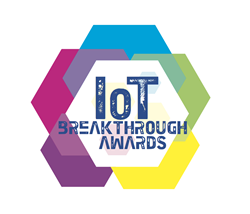 We make connected retail a reality with a platform that empowers retailers to transform their lighting into a true smart building hub - Greg Carter, Senior Vice President Connected Building Software with Acuity Brands Lighting
LOS ANGELES (PRWEB) January 08, 2019
IoT Breakthrough, an independent organization that recognizes the top companies, technologies and products in the global Internet-of-Things (IoT) market, today announced that Acuity Brands, Inc.'s Atrius™ IoT Solutions has been selected as the winner of the "IoT Connected Retail Application of the Year" award in the global 2019 IoT Breakthrough Awards program.
The mission of the IoT Breakthrough Awards program is to recognize the innovators, leaders and visionaries from around the globe in a range of IoT categories, including , Connected Home and Home Automation, Industrial and Enterprise IoT, Smart City technology, Connected Car, and many more. This year's program attracted more than 3,500 nominations from companies all over the world.
"Retailers face a tough challenge in providing stellar shopper experiences in their brick-and-mortar stores in order to compete with or complete their online and omnichannel experiences," said James Johnson, managing director at IoT Breakthrough. "IoT applications in retail are delivering solutions to address this challenge, and Acuity Brands is an industry leader and innovator in this new world of connected retail experiences. We congratulate the Acuity Brands' team on their well-deserved 2019 IoT Breakthrough Award."
Acuity Brands' smart lighting and Atrius IoT solutions amplify business performance for retail owners and the shopper experience for customers with indoor positioning, wayfinding, asset tracking, spatial analytics and space utilization services. Atrius is deploying full-scale IoT applications in more than 250 million square feet of indoor spaces.
"We make connected retail a reality with a platform that empowers retailers to transform their lighting into a true smart building hub," said Greg Carter, Senior Vice President Connected Building Software with Acuity Brands Lighting. "From indoor positioning services that enable asset tracking and management to space utilization, retailers have access to additional smart services and intelligence that radically improve the retail experience and provide a competitive edge for their businesses. We are proud to receive this industry recognition and look forward to further innovation and success for our customers and partners."
About IoT Breakthrough
IoT Breakthrough, part of the Tech Breakthrough Awards organization, is devoted to honoring excellence in Internet-of-Things technologies, services, companies and products. The IoT Breakthrough Awards program provides a forum for public recognition around the achievements of IoT companies and products in categories including Connected Home and Home Automation, Connected Car, Industrial IoT (IIoT) and Smart City, Consumer IoT and more. For more information visit IoTBreakthrough.com.
About Acuity Brands
Acuity Brands, Inc. (NYSE: AYI) is the North American market leader and one of the world's leading providers of lighting and building management solutions. With fiscal year 2018 net sales of $3.7 billion, Acuity Brands currently employs approximately 13,000 associates and is headquartered in Atlanta, Georgia with operations throughout North America, and in Europe and Asia. The Company's products and solutions are sold under various brands, including Lithonia Lighting®, Holophane®, Aculux®, American Electric Lighting®, Antique Street Lamps™, Atrius™, DGLogik™, Distech Controls®, DTL®, eldoLED®, Gotham®, Healthcare Lighting®, Hydrel®, Indy™, IOTA®, Juno®, Lucid®, Mark Architectural Lighting™, nLight®, Peerless®, RELOC® Wiring, ROAM®, Sensor Switch®, Sunoptics® and Winona® Lighting. Visit us at http://www.acuitybrands.com.