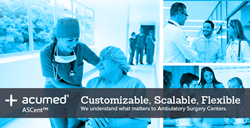 Choice is at the heart of this program, giving surgeons clinical options with clear pricing transparency.
HILLSBORO, Ore. (PRWEB) December 01, 2020
Acumed's ASCent is a customizable program designed to provide Ambulatory Surgery Centers (ASCs) with enhanced clinical value and pricing transparency.
Featuring Acumed's comprehensive portfolio of medical devices for simple to complex injuries for the outpatient setting, the program is designed to provide surgeons with numerous options to meet in situ challenges for optimal patient outcomes.
Every ASC's needs are unique. ASCent provides flexible pricing and billing structures to meet case needs and assist ASCs in complying with payor requirements, including fixed-price models.
Customizable, Scalable, Flexible: We understand what matters to our ASC customers.
"ASCs demand flexible business models that accommodate surgeon specialty and preference, as well as procedural requirements," said Jim Devine, Director of Ambulatory Surgery Centers at Acumed.
The ASCent program is designed to provide scalable and customized options addressing the unique needs of independent facilities, regional networks, and national contracts. The program includes fixed-price structures for more than 75 procedure types. Pricing is established prior to surgery, providing numerous benefits that will lower the total cost of care, and is sharable with patients and payors. The program also may aid in procedure collections, since implant costs are often variable, which prevents accurate price estimates.
Sharon Wolfington, Acumed's President and CEO said, "This program features Acumed's comprehensive extremity fixation portfolio of medical devices at fixed procedure prices. Choice is at the heart of this program, giving surgeons clinical options with clear pricing transparency."
Acumed has the most complete selection of upper extremity fixation and specialty plates on the market.* Acumed's portfolio includes our comprehensive surgical trays designed for maximum flexibility covering a broad range of case needs, along with our Essential sets that are cost effective and minimize storage requirements while covering the majority of cases. Our loaner bank maintains numerous sets that can be shipped within 24 hours' notice for operating room (OR) days working at maximum capacity.
Procedure packs are a convenient fixed-price option; however, they generate medical waste due to additional packaging, one-time use instruments, and disposed unused implants. Acumed's flexible surgical trays contribute to each organization's sustainability efforts by eliminating the waste generated by procedure packs.
Our ASC consultants will build a program that matches each ASC's specific needs. We will adapt each program to reduce costs, improve efficiency, and facilitate compliance with payor requirements.
Over the past 30 years, Acumed has worked with more than 3,600 ASCs. We have met the needs of independent ASCs as well as hospital affiliated ambulatory surgery centers. "Acumed has delivered millions in cost savings with our customized program, serving thousands of surgery centers and multiple payors over the last two years," said Aaron Greer, Director of National Accounts at Acumed. The ASCent program will serve patients, surgeons, ASC administrators, and payors with a consistent cost-of-care approach.
For more information or to schedule a presentation with our ASC dedicated team, please email ASCent@Acumed.net, or call Jim Devine (704.604.8123).
About Acumed
Acumed is a global leader in developing innovative orthopaedic and medical solutions to improve patient care. Acumed has more than three decades of experience in the orthopaedic industry, with the mission of aiding the afflicted through the ingenuity of our minds, the labor of our hands, and the compassion of our hearts. Founded in 1988, Acumed is headquartered in Hillsboro, Oregon, with offices and a distribution network around the world. For more information, visit acumed.net.
*Data on file with Acumed