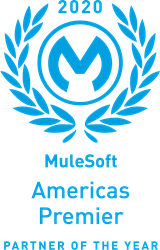 We are proud to be recognized by MuleSoft as the Americas Premier Partner of the Year. -Eric Pearsall
MCLEAN, Va. (PRWEB) August 05, 2020
Acumen Solutions today announced it has been named Americas Premier Partner of the Year by MuleSoft, provider of the world's #1 integration and API platform. Acumen Solutions was recognized for having the greatest market impact in Salesforce's FY20 based on ACV and practice development in the Americas and its significant contributions to empowering customers. Acumen Solutions provides customers with expertise and best practices as they realize the power of API-led connectivity to deliver truly connected customer experiences, faster.
According to the Connectivity Benchmark Report, the average enterprise has data in nearly 900 applications and only one-third are integrated, leading to disconnected customer experiences across channels. Partners like Acumen Solutions are trusted advisors that enable customers to accelerate their digital transformation and deliver connected experiences. MuleSoft partners align against business outcomes, deliver MuleSoft technology, templates and best practices and enable organizations to develop a Center of Enablement that empowers a self-service approach to integration – dramatically increasing the clock speed of business.
As a Salesforce Platinum Partner, Acumen Solutions helps IT shift its focus to adding flexibility and scalability to its integration infrastructure and orchestrations using MuleSoft's robust cloud and on-premise integration platforms.
"We are proud to be recognized by MuleSoft as the Americas Premier Partner of the Year," said Eric Pearsall, managing director of global services at Acumen Solutions. "This award highlights our mutual success in the market over the last year and we look forward to continuing to help our clients achieve their goals on the MuleSoft platform for many years to come."
Leading organizations in the MuleSoft Partner Program provide consulting and services for MuleSoft's Anypoint Platform™, the world's #1 integration and API platform. With skills and expertise that leverage API-led connectivity, MuleSoft partners help customers to unlock business capabilities and build application networks that accelerate the speed of IT delivery, increase organizational agility, and enable innovation at scale.
"MuleSoft partners serve as trusted advisors, helping customers adapt to unprecedented change and meet their biggest, most challenging digital transformation projects. Our award winners lead the growing MuleSoft partner ecosystem by prioritizing customer success, leading innovation and growth, and establishing industry best practices that drive the cultural change needed to accelerate digital transformation," said Brent Hayward, senior vice president of global channels and alliances, MuleSoft. "We look forward to the continued growth of the MuleSoft partner ecosystem and are proud to celebrate the success of our partners as they drive the adoption of application networks and help customers realize new connected experiences."
To learn more about the MuleSoft Partner Program visit: https://www.mulesoft.com/partner/acumensolutions
About Anypoint Platform
MuleSoft's Anypoint Platform™ is the world's #1 integration and API platform. It uniquely allows organizations to use API-led connectivity to unlock their data, empower their business with productized APIs, and create connected experiences, faster. Anypoint Platform is the only solution that offers a single, unified platform for iPaaS and full lifecycle API management, both on-premises and in the cloud.
About Acumen Solutions
Clients choose Acumen Solutions for one simple reason: our experience delivers success. Joining forces with our clients, our team of strategists, subject matter experts, and engineers solve problems that can't be fixed by technology alone. As a Top 10 Partner of Salesforce, Fortune 500 companies trust us to build solutions that grow revenue and strengthen customer relationships. Our groundbreaking solutions for government and not for profit clients streamline operations and improve productivity. We apply the same expertise to our unparalleled social responsibility program, generating sustainable impact across our local communities. To learn more, visit http://www.acumensolutions.com, or follow us on Twitter @AcumenSolutions.
MuleSoft is a registered trademark of MuleSoft, Inc., a Salesforce company. All other marks are those of respective owners.