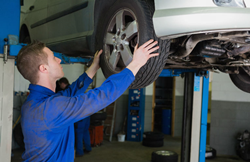 SALEM, Ore. (PRWEB) September 18, 2019
Acura of Salem is offering new service coupons to help customers save. These service coupons are just some of the many ways Acura of Salem tries to help drivers save on the vehicle maintenance they need. Acura of Salem is offering four service coupons throughout the month of September to give customers a helping hand.
One of the available service coupons is the Brake Special. The Brake Special includes replacing front or rear brake pads, cleaning and lubing caliper sliders and related parts, as well as inspecting hoes, brake line, and other brake components. With the Brake Special coupon, the price of these services is reduced to $159.95.
If there is a problem with a driver's air conditioning system, they can drive over to Acura of Salem Service Department and receive a test and inspection for a reasonable price. If there is a leak or other problem with the air conditioning system, the technicians at Acura of Salem will add the proper refrigerant for a total of $124.95.
Other coupons include a reduced price on an oil and filter change for $34.49 as well as a free battery inspection. If the vehicle needs a new batter, the car owner can save $15 on a replacement battery. These coupons cannot be used on any other offers and only last until Sept. 30.
Interested parties can learn more about the service coupons and savings at Acura of Salem by visiting the dealership's website, http://www.acuraofsalem.com. If readers have any other questions about the vehicles or services available at Acura of Salem, they can call 888-229-9882 or visit the dealership at 2475 Commercial Street SE, Salem, Oregon 97302 today.