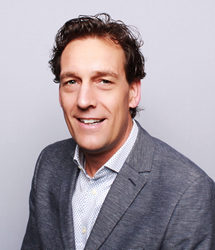 BOSTON (PRWEB) May 05, 2021
Ad-Lib.io, the next-generation Creative Management Platform for marketers at the world's largest brands, today announced the appointment of Harmen Westra as Head of Sales, North America, as Ad-Lib.io continues its global expansion servicing global brands including Nestlé, Coca-Cola, Johnson & Johnson and Estée Lauder. In this newly created role, Westra will focus on growing and nurturing Ad-Lib.io's relationships with advertisers that are headquartered in the US, as well as those that have a significant presence in the region.
"We are thrilled to welcome Harmen to Ad-lib.io as our company continues its rapid growth," said Manu Mathew, Ad-Lib.io's President, Americas. "As a proven leader, Harmen's extensive experience gives him a deep understanding of the need marketers have to get the best creative in front of consumers, across channels and at scale. By helping brands align creative and media efforts using Ad-Lib.io's unparalleled technology, we can further help our U.S. customers' top and bottom line efforts."
Prior to joining Ad-Lib.io, Westra was the Vice President of Client Success at MediaMath. He also held key sales leadership roles across marketing analytics, consumer insight, research, and media at organizations including iSpot.tv, Nielsen and others, where he was responsible for cultivating and growing relationships with leading brands, including Citigroup, Home Depot, Macy's and Unilever.
"Ad-Lib.io is uniquely positioned for tremendous growth due to its focus on helping brands build better creative, " said Westra. The US represents an incredible opportunity for Ad-lib.io to help marketers reframe the traditional approach to dynamic creative optimization. The company's dedication to improving clients' business results, by helping them produce the most relevant advertising creative at scale and with speed, is a problem I've witnessed in my past roles. I look forward to working with the team to bring Ad-Lib.io's solution to North America."
Westra is based In New York City. His appointment comes on the heels of Ad-Lib.io's recent rapid growth across Europe and the APAC region. For more information about Ad-Lib.io, please visit: https://www.ad-lib.io/.
About Ad-Lib.io
Ad-Lib.io provides the leading next-generation Creative Management Platform for marketers at the world's largest brands to enable them to scale their digital creative. Ad-Lib.io connects creative and media workflows using intelligent automation, making it easy and fast to produce and optimize relevant ad creative across all digital channels. These ads are 60% more cost-efficient to produce, according to Ad-LIb.io's customers which include 10 of the top 30 global brands. The venture-backed company, headquartered in London, UK, was founded by a former Google executive who understood the need to close the wide gap between creative concepts and digital media execution.