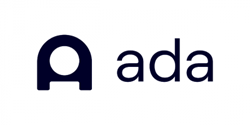 "We're very honored to be recognized as a chatbot leader on G2 because this recognition comes from our customers," Mike Murchison, CEO and Co-Founder of Ada
TORONTO (PRWEB) January 06, 2021
Ada, the leader in Automated Customer Experience (ACX), today announced that G2.com, Inc.'s Winter 2021 Grid ® Report for top Chatbots Software recognized the company as a leader. G2 scores products and sellers based on reviews gathered from its user community, as well as data aggregated from online sources and social networks. Clients rated Ada 4.7 out of 5 stars.
With Ada's AI-powered, no code ACX platform, businesses can offer personalized experiences at scale. Ada's platform helps clients resolve more than 80% of customer inquiries through automation, raising customer satisfaction, reducing churn and driving revenue. Ada's unique approach to building customer experience teams also ensures that organizations embracing ACX are set up to succeed. Ada's ACX Consultants use a tested implementation and training protocol to transform customer service teams into automation and customer experience experts. Ada's customers include Zoom, Air Asia, Shopify, and Upwork among others.
"We're very honored to be recognized as a chatbot leader on G2 because this recognition comes from our customers. At Ada, we want to partner with our customers to provide exceptional customer experiences, and we strongly believe that we need to lead by example by doing the same," said Mike Murchison, CEO and Co-Founder of Ada. "We're truly thankful to our customers for helping us define a new category of automated customer experience that takes advantage of the benefits of automation without sacrificing quality conversations at scale."
To learn more about Ada and read about customer experiences using the platform, please visit the company's rating page on the G2 website.
About Ada
Ada is the market leader in Automated Customer Experience (ACX). As the only chatbot platform purpose-built to support an automation-first customer experience strategy, Ada's AI-powered platform is designed to deliver the scale and impact that transforms customer support from a cost center to profit center. Headquartered in Toronto, Ada enables hundreds of customers around the world to meet the needs of today's customers with thoughtful personalized interactions proven to enhance long-term value and boost the bottom line. Learn more at ada.support.