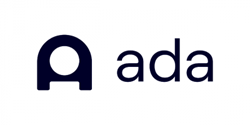 TORONTO (PRWEB) May 20, 2021
Ada, the leader in Automated Customer Experience (ACX), today announced the hiring of seasoned leader, Jennifer Kline Shernoff, a customer experience, product, and technology leader as Senior Vice President of Product & Design. The company also announced a series of no-code handoff integrations (known as Ada Glass) with leading CX platforms from Oracle and Intercom.
Under Shernoff's leadership, Ada is making significant platform investments to grow its breadth of integrations to make it easier for companies to extend the impact of automation across the customer journey.
The announcement follows Ada's recent $130M Series C financing which brought total funding raised to $200M with a valuation of $1.2 billion. The company is using the funding to invest in its people, product development, engineering, and go-to-market capabilities to support its continued global expansion.
"Ada is building a generational company, and a key part of that is bringing in the best talent to lead our organization. In Jennifer, we have a proven, experienced leader and technologist with a track record of success in high growth environments. She's obsessed with understanding and improving the customer experience, which makes her a great fit to lead Ada's product strategy," said Mike Murchison, CEO and Co-founder of Ada.
"I'm excited by the opportunity to build a product culture that positions Ada for scale and further global expansion. The power of the platform, ease of use, and elegant design are impressive. Ada's culture celebrates learning, experimentation and creativity which is the right fit for building a high performing team. I'm honored to join the leadership team and excited to help Ada elevate to the next level of automating every interaction at the brand." said Jennifer Kline Shernoff, Senior Vice President of Product & Design.
Ada Glass Integrations
Ada Glass are no-code integrations between Ada leading CX platforms like Zendesk, Oracle, and Intercom. The Ada Glass API facilitates the seamless handoff, with context, between Ada bot and live agents for high-touch support, all within a single user interface.
Ada Glass improves experiences for agents by automating administrative tasks, allowing them to handle high-value interactions, arming them with context for efficient resolution and faster handling time. Customers benefit from unified and personalized conversational experiences, delivering fast support through automation. When triaged to agents, customer information is collected and passed to agents to equip them with full context for the most efficient resolution.
Ada Apps
Ada Apps are no-code blocks that let business users connect Ada to their existing tech stack and facilitate more valuable customer interactions. New Apps announced today include Zendesk Sell, Convey, Shopify, and Gorgias.
About Ada
As the market leader in Automated Customer Experience (ACX), Ada is the only conversational AI platform purpose-built to support a scalable, automation-first customer experience strategy.
By uncovering new opportunities for revenue, Ada's automation and analytics are designed to transform reactive CX models to proactive, personalized profit generators. A global company, Ada's automation and AI enables clients around the world, like Zoom, Facebook, and Square to increase valuable interactions across the entire customer journey and empower CX professionals to succeed.