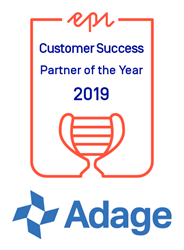 "We are extremely proud of our long-term customer relationships fostered with a hyper-focus on customer success throughout the Episerver community." - Roy Chomko, President & CEO Adage Technologies
CHICAGO (PRWEB) November 15, 2019
Adage Technologies, web strategy, design and development company in Chicago, IL has been recognized as the 2019 Episerver Customer Success Partner of the Year. The award recognizes Adage for its keen focus on customer success by consistently delivering on-time, on-budget and above-par experiences for its mutual customers with Episerver, the customer-centric digital experience company. Adage was honored at the annual Episerver Ascend conference, held last week in Miami.
An Episerver partner since 2009, Adage is the most experienced in North America with over 100 Episerver CMS and Commerce implementations. Adage collaborates with organizations to ensure shared goals are achieved and high standards of customer satisfaction are continually met.
Exceeding the expectations of all client-partners is what truly drives Adage. Roy Chomko, President & CEO of Adage explains, "This award means more to us than any other award we could have received. We are extremely proud of our long-term customer relationships fostered with a hyper-focus on customer success throughout the Episerver community. Everyone at Adage knows our commitment doesn't stop with the completion of a project. We view our customers as partners with a joint mission to serve their customers online today and into the future."
This year's partner's awards ceremony recognized partners in nine separate categories with common judging criteria including proof of customer success through partner expertise, platform implementation and project innovation with Episerver solutions. As Episerver Digital Customer Success Partner of the Year, Adage leveraged best-in-class design and development methodologies to deliver exceptional experiences for their customers' customers, attaining continuity between what customers expect when they interact with brands online and what they actually get.
"As Episerver grows, so does its partner network and the competitiveness of the partner awards," said Dom Citino, VP of worldwide partnerships at Episerver. "It's getting more and more difficult for our teams to choose just one winner in each category which speaks to the diversity and depth of the Episerver partner network. Our focus is the customer and the experience they are able to provide their customers, and Adage shows us time and again that we share the same focus."
Adage and Episerver share a common goal to ensure customers, and their customers meet their meaningful goals. Through a frictionless buyer journey, personalized experiences, accessibility considerations, and easy-to-find content, products or services, Adage and Episerver strive to improve the entire audience lifecycle from discovery to retention.
About Adage
Adage Technologies is a web strategy, design, development and ecommerce firm in downtown Chicago. We work with mission-based organizations to increase member and future member satisfaction through digital initiatives from web conversion optimization and member research to full-scale digital transformations. We implement solutions to tackle your organizations unique challenges. Learn more at adagetech.com.
About Episerver
Episerver empowers businesses to scale through the most customer-centric approach to digital experiences. Its Customer-Centric Digital Experience Platform™ features best-in-class content management, robust commerce, and intuitive data and personalization solutions. The platform has consistently earned industry, analyst and media recognition for its vision, capabilities and customer commitment. Episerver's 900+ partners and 700+ employees in offices around the globe are proud to help more than 8,000 customers enrich their customer lifetime value, increase revenue and grow their brands. Learn more at episerver.com.