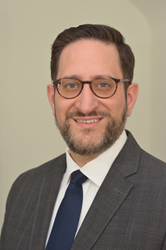 As architect and leader of the CUNY School of Public Health Foundation, Adam has been an essential catalyst in the graduate school's five-year achievement in becoming an independent, accredited, top-ranked public health authority in New York City and the nation. -- CUNY SPH Dean Ayman-El Mohandes
NEW YORK (PRWEB) April 29, 2021
Adam Doyno, Executive Director of the CUNY SPH Foundation and Director of Development for the CUNY Graduate School of Public Health and Health Policy, has been named to NYNMedia Nonprofit 40 Under 40 Class of 2021.
Doyno was celebrated as a nonprofit leader at the Nonprofit 40 Under 40 Virtual Reception taking place on Wednesday, April 28, 2021. Each year, NYN Media recognizes 40 individuals under the age of 40 who demonstrate their commitment to the nonprofit sector with outstanding contributions to the New York community.
"As architect and leader of the CUNY School of Public Health Foundation, Adam has been an essential catalyst in the graduate school's five-year achievement in becoming an independent, accredited, top-ranked public health authority in New York City and the nation," says CUNY SPH Dean Ayman-El Mohandes.
A Certified Fund Raising Executive, Doyno drives the school's fundraising operations and development activities that support the school and its students, the 500,000+ students and continuous learners within the CUNY system, and New York City broadly.
"CUNY SPH is New York City's public school for public health," says Lyndon Haviland, Chair of the CUNY SPH Foundation Board of Directors. "Adam designed the Foundation to deliver on our shared vision for social justice and improved health outcomes for all. His leadership and partnership have placed us on a growth trajectory to improve public health through innovations in workforce preparedness, new domains of study and food security for CUNY SPH students and their communities."
Through fundraising, board recruitment, and marketing strategy, Doyno has accelerated donor engagement in urgent urban health solutions. In three years, he raised over $4 million – $2 million in the last year alone. He has carefully cultivated a board whose passion for public health equity draws upon medical, pharmaceutical, financial, education, social work, technology, and communications expertise.
Active in the fundraising community, Doyno serves on the Board of Directors for the Association of Fundraising Professionals, NYC Chapter where he is also the co-chair of the Member Engagement Committee. He is also a member of the Association of Donor Relations Professionals, where he has been a recurring speaker at its international conference. He represents CUNY SPH on the 125th Street Business Improvement District Board.
About CUNY SPH
The CUNY Graduate School of Public Health and Health Policy (CUNY SPH) is committed to teaching, research, and service that creates a healthier New York City and helps promote equitable, efficient, and evidence-based solutions to pressing health problems facing cities around the world. Located in Harlem, CUNY SPH is the top-ranked public school of public health in New York City, New York State, and the tristate region. https://sph.cuny.edu/
About the CUNY SPH Foundation
The CUNY SPH Foundation's mission is to advance the achievement of CUNY SPH's mission, vision, and values as New York City's public school of public health through fundraising, building strategic partnerships, and providing services as a champion for the school's students as they embark on public health careers and its faculty as they work to educate the next generation of public health professionals. https://sph.cuny.edu/about/people/foundation/