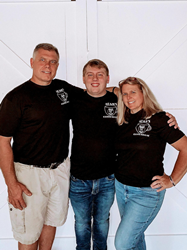 "After looking at various partners and online schools, I chose Crimson Cup Coffee & Tea. They have award-winning coffee and a proven system for success."
COLUMBUS, Ohio (PRWEB) October 08, 2020
Ryan and Tammy Salmons dreamed of opening a coffee shop for so long that family and friends said the shop would open, "When pigs fly."
"Guess what … This pig is flying!" Tammy Salmons said. "Welcome to Adam's Flying Pig Coffee House!"
The pig took flight September 4 at 9107 Ohio River Road in Wheelersburg, Ohio.
The coffee house got its start when Tammy and Ryan considered career choices for their oldest son, Adam, who lives with Autism.
Their two younger daughters had plans for college and careers. But how would Adam make his way in the world?
A coffee shop seemed a perfect fit for Adam, who has an affinity for food service and loves going to different coffee houses when they travel.
"He already had experience working at McDonald's and Senora's restaurants. Why not a coffee shop?" Tammy said.
"We wanted to create a place where Adam and others with special needs would find employment, acceptance and social life," she added.
Entrepreneurship and service to their local community run in the family. Ryan Salmons has operated a local State Farm insurance agency in Wheelersburg for 20 years.
"When we found the current location for my agency, we knew the building would also be the perfect home for our coffee shop," he said.
Although Tammy loves coffee, it took a while for the stay-at-home mom of 20 years to get her "pig" to fly.
"I started researching excellent coffee and places that help people open a coffee shop," she said.
"After looking at various partners and online schools, I chose Crimson Cup Coffee & Tea. They have award-winning coffee and a proven system for success."
The Columbus, Ohio coffee roaster trains entrepreneurs through its 7 Steps to Success coffee shop franchise alternative.
Crimson Cup Founder and President Greg Ubert created the program based on his book, "Seven Steps to Success: A Common-Sense Guide to Succeed in Specialty Coffee."
Now in its second printing, the 7 Steps book and training program have guided over 150 coffee shop owners in 30 states on to road to thriving businesses.
In fact, Adam's Flying Pig is one of 10 independent coffee houses that opened this summer in their local communities through Crimson Cup's 7 Steps program.
"We're excited to welcome Tammy, Ryan, Adam and their family as Crimson Cup customers," Ubert said. "We love to help entrepreneurs like the Salmons put their unique stamp on their own small businesses."
"You don't have to go it alone," he added. "Crimson Cup has been turning coffee lovers into successful coffee house owners for nearly three decades."
Tammy said she was impressed by the detailed, hands-on training she received. "I never realized how much detail goes into outstanding quality," she said.
"I also liked that we learned about the global supply chain and why it's important to present the hard work of the coffee farming communities through Friend2Farmer," she added.
Crimson Cup's unique Friend2Farmer initiative helps coffee farmers grow better coffee, earn more for their harvest and reinvest in their farms and communities.
"Adam loves geography, loves history and maps, and is going to try to show customers where the coffee is from," Tammy said.
In its first few weeks, Adam's Flying Pig has really taken flight. Members of the Wheelersburg community rave about the coffee, service and atmosphere.
In Facebook reviews, customers praise the friendly staff, fast service, "cozy and modern" décor – and the "amazing" coffee, roasted by Crimson Cup.
Customers choose from a full menu of hot and cold specialty coffee drinks, including handcrafted espressos, lattes, cappuccinos and mochas, plus frozen smoothies, hot chocolate and premium hot and iced teas.
The shop also has Crimson Cup's craft Nitro cold brew on tap. Infused with nitrogen bubbles, Nitro is an effervescent iced beverage with a rich, creamy texture and natural sweetness.
The Salmons employ about nine full and part-time baristas and other staff, including Adam. "He loves to come in a few days, but he loves his other jobs, too!" Tammy said.
They hope to add other staff with special needs as the business grows.
As she begins her new life as a coffee shop owner, Tammy Salmons had this advice for others who are thinking about opening a coffee shop:
"Plan well; don't jump in without having a business plan. There can be lots of hidden costs if you're not careful.
"Also, make sure to check reviews of potential partners and put your money into the best!" she concluded.
About Crimson Cup Coffee & Tea
Columbus, Ohio coffee roaster Crimson Cup Coffee & Tea is a 2020 Good Food Award winner, 2019 Golden Bean Champion for Small Franchise/Chain Roaster and Roast magazine's 2016 Macro Roaster of the Year. Since 1991, Crimson Cup has roasted sustainably sourced craft coffee in small batches. It sells coffee to consumers and distributes wholesale coffee beans.
Through its 7 Steps to Success coffee franchise alternative program, the company teaches entrepreneurs to run successful coffee houses. By developing a coffee shop business plan, entrepreneurs gain insight into how much it costs to open a coffee shop.
Crimson Cup coffee is available through over 350 independent coffee houses, grocers, college and universities, restaurants and food service operations across 30 states, Guam and Bangladesh. The company also operates several Crimson Cup Coffee Houses. To learn more, visit crimsoncup.com, or follow the company on Facebook, Instagram and Twitter.