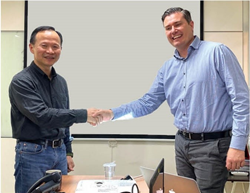 We have been selling Smart Antenna solutions for over five years. So far we have addressed the needs of enterprise networking industry; with the introduction of smart-2 technology we are making our technology available for the retail market and telecom operators at an attractive price
PLEASANTON, Calif. (PRWEB) April 17, 2020
Leveraging their complementing capabilities Adant and Lynwave entered into a partnership and jointly defined an innovative, low-cost, high-speed and high-reliability Wi-Fi 6 (802.11ax) smart antenna product – sMART-2 for networking equipment and Wi-Fi device suppliers.
The use of smart antenna technology is an effective way to reduce interference, boost system capacity, increase data rate and optimize link quality of wireless communication devices. However, despite years of development, Wi-Fi routers today still largely use traditional static antennas, as the market lacks smart antenna solutions that are both technologically and economically feasible.
According to Lynwave general manager Dallas Wu, smart antennas have the great advantage of enabling signals to get around indoor/outdoor wireless blockages by dynamically controlling the radiation pattern and thus always maximizing the signal to noise ratio at the receiver while steering clear of noise to avoid interference and ultimately maintaining exceptionally stable throughput.
"System integrators are all well aware of smart antennas' advantage but just do not have access to working solutions at reasonable cost," noted Mr. Wu.
Due to the tremendous amount of R&D resources and time required to properly address all the complex implications involved with making a smart antenna system (SAS) to perfectly work and seamlessly integrate with the existing Wi-Fi routers and chipsets, very few Companies have been able so far of developing SAS solutions and the few that were actually proposed were overly expensive to be even considered by most system integrators.
"We have been selling Smart Antenna solutions for over five years to many networking equipment vendors worldwide. So far we have primarily addressed the needs of enterprise networking industry (B2B); with the introduction of our patented smart-2 technology we are making our technology and know-how available to retail equipment vendors and telecom operators at an attractive price compared to static antenna solutions" said Adant's CEO, Mr. Daniele Piazza.
Adant has been serving the wireless equipment market for over five years providing advanced solutions and products to a variety of Customers, including WiFi routers and mesh nodes, RFid integrators and IoT customers. With dozens of patents covering different types of antenna designs as well as many different smart antenna selection algorithms, now including its unique smart-2 system and selection algorithm. Adant is worldwide recognized as the Smart Antenna leader, and the go-to partner for the toughest wireless problems.
Lynwave has established strong R&D antenna hardware development capabilities and is specialized in using advanced computer simulation to determine the optimal antenna placement and the most suitable type of antenna for a specific application. With strong presence on the Taiwan market for more than a decade, Lynwave has developed a solid technical and sales workforce serving a large Client base, providing comprehensive after-sales support to local Customers. Taiwan-based system integrators can therefore rely with confidence on Lynwave' s support to successfully design-in sMART-2 SAS into their products.
By joining forces, these two leading Companies are now able to offer the best performing and cost-effective smart antenna solution thus filling a long-existing market gap.
For more information, please contact: info@adant.com