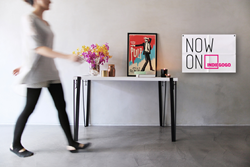 Adap.Table legs allow you to freely create a mobile and personalized table with any tabletops, new or recycled, with a simple twist.
London, UK/ Taipei,Taiwan (PRWEB) November 11, 2014
Brand new international design brand Adap.Table debuts on Indiegogo on November 11, 2014 with its first products, the Adap.Table legs, Delta and Ribbon. By reaching out to design enthusiasts, makers, DIY fans on Indiegogo, Adap.Table takes the first step to gain backing around the globe among the lovers of chic design and of detachable furniture that fits a mobile and personalized lifestyle.
These sublimely simple and elegantly shaped steel Adap.Table legs enable you to freely choose your combination of sculptural table legs with any new or recycled tabletop, individualizing the centerpiece of your working and living space at ease. The legs can easily hold as much as 100 kilograms or 200 pounds.
Sourcing their inspiration from design and furniture history, Adap.Table Head design duo Francois Elphick (South African) and Ta Yang Hsu (Taiwanese Belgian) created the legs with an aesthetic sense inspired by a human touch and an environmentally sustainable approach. They want to take the lead to expand the choices of detachable furniture products that fit modern urban lifestyle.
Ta Yang and Francois said, "Collapsible, folding/foldable, detachable, and stackable furniture has existed since Egyptian time throughout history. These designs share one thing in common - the concept of space saving and ease of transportation – which is just what modern urban people need: furniture that is more flexible and portable."
Ta Yang also elaborated on his observation for demands of Adap.Table legs. "The time is ripe for table leg products and accessories. Our generation has grown up with mass connectivity, widespread e-commerce and globalization. Moving between different countries and cities is not only a rite of passage but also a lifestyle. We embrace the uncertainty, and value on autonomy and freedom. While modern urban lifestyle creates needs for mobile design, we think that a design should be simple enough that it can fit many different situations. Why not focus on the beauty of the legs for once and allow them manifest your taste with any tabletop to your liking?"
Adap.Table team is an ensemble of multi-cultural talents each experienced in sales, marketing, production and PR, based in Taipei and London. All legs are made in Taiwan, leveraging its world-class capabilities in manufacturing, quality control and supply chain. By interacting with the Indiegogo crowd, who are known as smart early-adopters for good designs, the entrepreneurial team wants to listen and respond to the backer insights, hoping to pave the way for wider market outreach. Under the Adap.Table brand, the team hopes to bring more flexible and chic-looking table accessories to the market in the future.
Go to Adap.Table Indiegogo Campaign Page and fund the project!
Follow us:
ABOUT ADAP.TABLE
Adap.Table is an entrepreneurial venture - a table accessory design brand founded in 2014 by an ensemble of cross-continental and multi-cultural talents.
Our mission at Adap.Table is to design table accessories that enable more freedom for people to create working and living spaces in line with their individual taste. We believe comfort and creativity will fully blossom when we genuinely love where we work and live in.