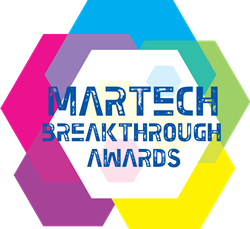 "AdColony's commitment to innovation and quality truly sets us apart from other ad networks. We offer compelling and immersive experiences to our clients while maintaining the utmost respect for the in-app experience and end-user privacy." - Jude O'Connor, Chief Revenue Officer, AdColony
LOS ANGELES (PRWEB) September 23, 2020
MarTech Breakthrough, a leading market intelligence organization that recognizes the top companies, technologies and products in the global marketing, sales and advertising technology industry, today announced that AdColony, the in-app marketplace for brands, has been selected as the winner of the "Best Digital Ad Network" award in the third annual MarTech Breakthrough Awards program.
AdColony develops unique and engaging ad experiences that deliver phenomenal results. The AdColony SDK includes more than 125,000 integrations of its technology in today's most popular apps and games.
AdColony features mobile ad experiences and innovations like Aurora™ HD Video, the best playables, and more, all powered by their award-winning Instant-Play™ proprietary technology. The crystal clear, buffer-free Instant-Play™ HD mobile video delivers superior user experience in mobile video, regardless of device type or connection strength.
"AdColony's commitment to innovation and quality truly sets us apart from other ad networks," said AdColony's chief revenue officer Jude O'Connor. "We offer compelling and immersive experiences to our clients while maintaining the utmost respect for the in-app experience and end-user privacy. This is why the world's leading advertisers continue to go deeper and grow their unique partnerships with us, and we're very proud to receive recognition for the hard work and great results we produce."
The mission of the MarTech Breakthrough Awards is to honor excellence and recognize the innovation, hard work and success in a range of marketing, sales and advertising technology related categories, including marketing automation, market research and customer experience, AdTech, SalesTech, marketing analytics, content and social marketing, mobile marketing and many more. This year's program attracted more than 2,750 nominations from over 15 different countries throughout the world.
"AdColony continues to lead the in-app mobile video advertising space with its unparalleled level of expertise and innovation," said James Johnson, Managing Director at MarTech Breakthrough. "With life-like graphics, true interactivity, AdColony is delivering a mobile ad experience that allows advertisers to immerse viewers in video like never before. We want to congratulate the entire AdColony team on winning our 'Best Digital Ad Network' award."
AdColony places special emphasis on transparency and reliability for its partners, and is the first mobile ad platform to be integrated with all three major viewability partners - Integral Ad Science (IAS), MOAT, and DoubleVerify - and also leads the in-app space with the adoption of the IAB's Open Measurement standard. These efforts ensure video ads are being seen, measured, are brand-safe, and make an impact. Their Ad Quality Marketplace provides 100% transparent inventory that has been Certified Against Fraud for three years running and was recently one of the first companies named Brand Safety Certified (UK) by the Trusted Accountability Group (TAG).
Additionally, AdColony's Programmatic offering gives agencies and brands Real Time Bidding (RTB) access to today's top-trending mobile apps and access to the inventory via an Open or Private Marketplace.
About MarTech Breakthrough
Part of Tech Breakthrough, a leading market intelligence and recognition platform for global technology innovation and leadership, the MarTech Breakthrough Awards program is devoted to honoring excellence in marketing, ad and sales technology companies, products and people. The MarTech Breakthrough Awards provide a platform for public recognition around the achievements of breakthrough marketing technology companies and products in categories including marketing automation, AdTech, SalesTech, marketing analytics, CRM, content and social marketing, website, SEM, mobile marketing and more. For more information, visit MarTechBreakthrough.com.
About AdColony
AdColony is one of the largest mobile advertising platforms in the world with a reach of more than 1.5 billion monthly users globally. AdColony's mission is to drive business outcomes that matter for advertisers and publishers using its best-in-class mobile technology, the highest-quality mobile ad experiences and leveraging its curated reach. AdColony is known throughout the mobile industry for its unparalleled third-party verified viewability rates, exclusive Instant-Play™ and Aurora™ HD video technologies, rich media formats, global performance advertising business, programmatic marketplace, and extensive SDK footprint in the Top 1000 apps worldwide.