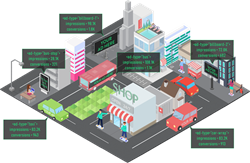 The Farm is the perfect place for us to validate and further improve our analytics technology -- and we're surrounded by professionals that are a great fit for our team specifically
LOUISVILLE, Ky. (PRWEB) September 10, 2019
Louisville-based vehicle advertising and location analytics startup, Adder, has been accepted into The Farm: a collaboration between Boomtown Accelerators and Comcast/NBC Universal focused on technology research and startup development.
The 12 week program began on August 26, with 10 companies participating in the Atlanta-based cohort. Located in the Comcast building in The Battery, The Farm is working hand-in-hand with Adder's leadership to validate their market-ready location analytics services for out of home advertising clients.
Dubbed "Analytics for the Real World" by Adder, their outdoor advertising platform shows impressions, location-conversions, real world clickthrough, and other key performance statistics to outdoor advertising providers and marketers. Traditionally, these markets had been under-served and at a disadvantage to more trackable, if not more invasive, digital advertisements.
Utilizing a state of the art facility, prototype development and testing equipment, as well as an extensive network of mentors and other human resources brings many advantages for Adder, "The Farm is the perfect place for us to validate and further improve our analytics technology -- and we're surrounded by professionals that are a great fit for our team specifically," said Ian Gerard, CEO and Product Architect for Adder.
With the completion of their onsite cloud analytics platform in Louisville, Adder is gearing up for sales expansion, and is halfway through raising $300k to build out key data collection infrastructure.
Adder is a gig-economy based, vehicle advertising service and location analytics provider for out of home advertisers -- using consent-driven GPS data to tell the story of how customers connect with brands in the real world.
For news and development updates, check out the Adder newsroom. For media/press inquiries, contact our Chief Marketing Officer, Lillie Beiting at l.beiting(at)adder(dot)io