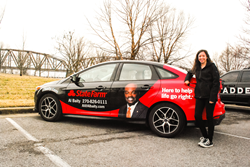 [Adder's] recent breakthroughs in conversion tracking and IP targeting based on GPS data will revolutionize The Out of Home advertising market
LOUISVILLE, Ky. (PRWEB) April 01, 2019
Adder Mobile launches its groundbreaking GPS conversion-based analytics platform, giving marketers tools to create vehicle-based ad campaigns with data-driven analytics that power the omnichannel advertising revolution.
The platform launch marks a huge leap for Adder, bringing some of their latest innovations in GPS analytics to the advertising market. Anyone can use the Adder platform to advertise in a manner similar to Facebook or Google Ads. Adder uses car wraps to market based on location targets, then works to drive traffic via a patented IP retargeting partner network to serve full spectrum omnichannel ads.
The car wrap advertising and outdoor marketing analytics platform has been anticipated by marketers from Kentucky to California, but can be utilized by small business owners and other OOH advertisers as well.
To demonstrate the versatility of the platform, Adder has partnered with Adway USA -- another vehicle advertising firm based in Los Angeles. Adway will be using Adder Analytics on its vehicle campaign for Skyzone to determine the reach of their outdoor ads and to retarget the IP addresses of people that saw the vehicle ads.
"Our recent breakthroughs in conversion tracking and IP targeting based on GPS data will revolutionize The Out of Home advertising market. Before Adder, there have been only predictive models and historical traffic records to work with to understand how many people see a billboard, for example. Adder Analytics takes the guesswork out of that -- and it comes standard with our car wrap campaigns," says Adder CEO, Ian Gerard.
Out of home advertising has previously been shunned by marketers who enjoyed real time, actionable insights and ROI data. With stats showing that OOH advertising generates $5.97 per dollar spent, the value proposition of Adder only builds on this incredible medium. And with Adder, vehicle ad campaigns cost less per month than some mobile billboards cost per day.
Says Gerard, "Advertising using our gig economy fleet isn't just an incredible value -- it's an investment directly into the community your brand relies on for its bottom line. When advertising dollars stay local by paying everyday drivers to wrap their cars in ads, money that would have gone to Google Ads or Facebook recirculates locally."
Adder Mobile Technologies is a car wrap and vehicle advertising provider, a driver gig economy, and a GPS deep learning analytics provider located in Louisville, Ky. Founded in 2017, Adder now has 13 employees in Kentucky bringing analytics to the real world.
For media/press inquiries, contact our Chief Marketing Officer, Lillie Beiting at l.beiting@addermobile.com