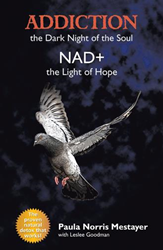 SPRINGFIELD, La. (PRWEB) September 05, 2019
In her new book, "Addiction—the Dark Night of the Soul; NAD+—the Light of Hope" (published by Balboa Press), psychotherapist Paula Norris Mestayer shares her nearly 20 years of clinical experience successfully treating addiction — along with depression, PTSD, and other brain diseases — with intravenous infusions of NAD+, a natural coenzyme of niacin. The treatment enables patients to kick opiates, alcohol, benzodiazepines, methamphetamines and more, in 10 days — with minimal withdrawal symptoms or cravings. The book is available for purchase at: https://www.balboapress.com/en/bookstore/bookdetails/762032-addiction-the-dark-night-of-the-soul-nad-the-light-of-hope.
In her book, Norris Mestayer shares clinical evidence that addiction is a brain disease — and that when the brain is treated it can heal. She asks why the opioid epidemic is being treated simply by substituting replacement opioids when her experience demonstrates a better way to address the problem. In laymen's terms she explains what is known thus far about why NAD+ is effective. Her book also shares the inspirational stories of people who have journeyed through addiction's "dark night of the soul" and found their way to health, wholeness and freedom once again.
"Our nation faces an opiate addiction epidemic, and our primary response is the substitution of one addictive narcotic (methadone or Suboxone) for another," she says. "Although these drugs can provide short-term addiction relief, the price is often a lifetime of chemical slavery to the substitute narcotic—with long-term debilitating health consequences."
Norris Mestayer is a pioneer in establishing NAD+ treatment in the United States, where she is the first and longest provider of intravenous NAD+ protocols. Her work and her book have received praise from others in the addiction treatment and research field. NAD+ researcher, Dr. Ross Grant, of the Australasian Research Institute, Sydney, Australia, says, "When we fully understand the role of NAD in overcoming oxidative stress, which is the leading cause of illness and death in developed countries, it will be obvious why it works to treat addiction—as well as a variety of other illnesses."
Dr. Louis Cataldie, addiction medicine specialist and author of "10,000 Addicts Later," says "NAD+ is changing the standard of care for addiction treatment—and Paula Norris Mestayer has more experience using NAD to help addicts than any other provider in our industry. Her contribution to the field of addiction medicine is huge."
"Addiction—the Dark Night of the Soul; NAD+—the Light of Hope"
By Paula Norris Mestayer
Hardcover | 5.5 x 8.5 in | 218 pages | ISBN 9781982218157
Softcover | 5.5 x 8.5 in | 218 pages | ISBN 9781982218133
E-Book | 218 pages | ISBN 9781982218140
Available at Amazon and Barnes & Noble
About the Author
Paula Norris Mestayer M.Ed., LPC, FAPA, is the founder of Springfield Wellness Center, which has helped thousands of people successfully break the rehab and relapse cycle. She and her colleague, Dr. Richard Mestayer, III, have also trained scores of other physicians in the protocols for utilizing NAD+ to effectively treat addiction — with minimal withdrawal symptoms and without substituting another narcotic.