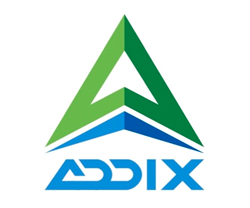 "For too long sports team administrators have been forced to make trade-offs when purchasing team uniforms and sports gear; they're used to being told 'Fast, cheap or good…pick any two.' At Addix, our team is putting an end to those unnecessary trade-offs," ADDIX CEO Steve Dean
LOWELL, Mich. (PRWEB) December 11, 2019
ADDIX, a leader in custom team athletic wear production, today announced completion of a strategic initiative designed to further its ability to disrupt the team sports marketplace with major advances, including an industry-leading order-to-ship commitment of just 9 days.
"For too long sports team administrators have been forced to make trade-offs when purchasing team uniforms and sports gear; they're used to being told 'Fast, cheap or good…pick any two,'" said ADDIX CEO Steve Dean. "At Addix, our team is putting an end to those unnecessary trade-offs by giving customers an unmatched combination of selection, quality, and value, with the industry's fastest turnaround time. Just like the teams we serve, our success is built around having talented players, putting them in the right positions, and giving them the tools and training they need to excel at the highest levels. That's what this initiative is all about."
As a result of the initiative, on October 30th of this year, ADDIX launched 9-day order-to-ship promise. This competitive breakthrough disrupts the current industry standard of 3-4 weeks, domestically, and undercuts the 6-8 week lag typically required for orders completed overseas (Asia). The initiative, led by ADDIX General Manager/EVP of Operations Jarrod Whaley, included a combination of investments, business model improvements, organizational additions, and a new go-to-market strategy. Together, these proactive steps form a solid foundation for accelerating ADDIX's long-term mission. The following is an overview of major elements of the initiative:
Sales & Marketing – Steps taken to strengthen the ADDIX go-to-market strategy:

New logo,
New mission statement: "Custom made & customer focused performance apparel - designed and produced by quality driven ADDIX associates - with the fastest speed to market in the USA,"
New online retail store http://www.addixgear.com/shop to capture secondary non-team and non-sport markets,
New product lines - kick bags, full-size custom re-apply wall images (similar to Fathead), decals, vinyl signage & banners,
New strategic alliances forged in hockey, flag football, and softball, as well as new relationships in soccer.
Equipment Investments – Advanced technology and tools to increase quality, productivity and speed to market:

New Golden Laser automated cutting equipment for precise cuts and faster production,
New XpressScreen equipment to shorten prepress time from hours to minutes,
New HP latex printer for banners, decals, vehicle wraps, and other items,
Expanded sublimation production capacity with new and recapitalized equipment to triple printer capacity and double heat press output.
Management & Process Improvement – Investments in people, processes and software technology to expand the team and enable higher performance:

Partnered with ERP Success Partners to implement cloud-based NetSuite as the company-wide enterprise resource planning (ERP) tool to optimize management of resources,
Implemented LEAN methodologies to further institutionalize the organization's commitment to continuous process improvement, and named Jason Welsch as the new Vice President of LEAN and Quality,
Expanded Sales organization under new Vice President of Sales Kyle Bergman to include outside sales reps, distributor reps, and a sales support function,
Promoted Noel Dean to EVP of Business Development to address the "white label" market segment,
Added new Controller, John Kunter, to strengthen financial processes, business analytics and efficiency,
Named Justin Craig as new Vice President of Logistics and Procurement to optimize sourcing and supply chain efficiency,
Named Will Farr as the company's new dedicated Director of Events to oversee all market-facing tournament-related activities.
ABOUT ADDIX
ADDIX serves the sports community by providing custom team uniform apparel. The ADDIX factory is located in Lowell, Michigan, where our team designs, prints, transfers, cuts, and sews all of our sublimated garments, along with in-house screen printing & embroidery. We currently offer apparel for over 17 sports, spirit wear and corporate wear. We power our customers' success by staying true to our stated mission of providing custom made & customer focused performance apparel - designed and produced by quality driven ADDIX associates - with the fastest speed to market in the USA. In addition, the ADDIX Cares program, launched in 2015, works with charities including American Cancer Society, Gilda's Club Grand Rapids, The Michael Sadler Foundation and others, with the goal of giving back to communities and causes that matter. For more information on ADDIX visit: http://www.addixgear.com