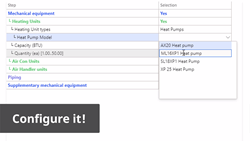 We are democratizing project planning and estimating.
ATLANTA (PRWEB) August 04, 2020
Adeaca announces the availability of its Project Modeler. As part of Adeaca's Project Business Automation (PBA) platform, the Project Modeler promises to revolutionize how projects are built and sold. The Project Modeler creates a streamlined planning and estimating process that enables companies to scale and automate best practices from project sales through execution.
Project Modeling is an entirely new approach to project initiation. Akin to using a product configurator for manufacturing, a user of Adeaca's Project Modeler builds the components (the tasks and costs) of a project from a predefined set of models. The user configures the components with the specifications for a particular project, and the project plan and estimates are constructed through a system of rules. In practice, the user simply answers a series of questions and the system creates the project schedule (work breakdown structure) and cost and price estimates (cost breakdown structure) automatically.
There are two major advantages of using project modeling versus the traditional approach of building a project step by step or by copying and pasting a past project or template.
The first is speed. Depending on the complexity of the project, the traditional route could take hours or even days, as the project manager constructs and/or edits each task and gathers information from various stakeholders to build the project plan and cost estimates.
With Adeaca's Project Modeler, a user can configure an entire project in a manner of minutes through predefined components and rules. Cost and price estimates, schedules, and Gantt charts are created instantly after configuring and inserting a model into a project. Efficiency in the project initiation process can be improved through project modeling by an order of magnitude.
The second advantage, and perhaps more importantly, is increased project business governance. Project models encapsulate and scale best practices across the company and from the beginning of the sales cycle. They also reduce human error. Salespeople utilizing the Project Modeler to build quotes and proposals are ensured to create the optimal plan.
Since plans presented in sales proposals are based on accurate models representing the best processes, the transition from sales to execution is seamless. Sales and operations are aligned from the beginning, reducing rework and ensuring the best possible plan is proposed and executed against.
"In a sense, we are democratizing project planning and estimating," said Daniel Bévort, President and Chief Executive Officer of Adeaca. "The Project Modeler makes the best possible process in creating a project repeatable by anyone. We are scaling and automating best practices, so companies have more control but also operate faster and with more accuracy."
By using standardized models, companies can also improve collaboration. Sales and operations teams can work together more efficiently. Project managers, planners and controllers can support each other across projects more effectively. Moreover, as new best practices or guidelines emerge, they are easily captured and shared through the central model library.
Adeaca PBA's Project Modeler enables companies to create optimal project schedules and financial estimates from the outset. As a result, project-based companies can develop more accurate plans in less time, accelerating the sales process and driving better outcomes for their customers.
Learn more about the Adeaca Project Modeler.
About Adeaca
Adeaca is the creator of the first Project Business Automation (PBA) system, a comprehensive business management solution for project-based companies. PBA from Adeaca integrates project management and operations, project accounting and financials, and project and portfolio insight and analytics into Microsoft Dynamics 365 Finance ERP, creating one complete system for Project Business. Construction, engineering, engineer-to-order manufacturing, and professional services firms can transform into fully integrated, proactively managed organizations that operate in real time with Adeaca PBA. Learn more at Adeaca.com.