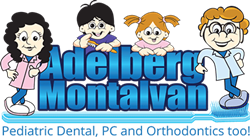 NESCONSET, N.Y. (PRWEB) October 12, 2020
Adelberg-Montalvan Pediatric Dental & Orthodontics is pleased to announce two new additions to their thriving Long Island dental practice. Amanda B. Albin, DMD joins Adelberg-Montalvan as an orthodontist and Gregory Bohle, DDS, MD, FACS now provides pediatric oral surgery for the practice's patients. Both doctors work primarily out of Adelberg-Montalvan's Nesconset office.
In the competitive field of dentistry, offering comprehensive care is a boon to patients, but this is especially true when it comes to pediatrics. By offering a range of dental specialties under one roof, young patients are able to receive the specialty care they need in an environment where they already feel comfortable and safe. Providing complete dental care in a single office also makes collaboration and communication between doctors seamless.
Dr. Albin earned her Doctor of Dental Medicine degree from the University of Pennsylvania before going on to receive postgraduate training in orthodontics and a Master of Science degree from Stony Brook University. She provides orthodontics for both children and adults at Adelberg-Montalvan.
Dr. Marc Bennet, Dr. Albin's colleague at Adelberg-Montalvan's Nesconset location, shares that the addition of a new orthodontist has allowed the office to better serve its patients. "With Dr. Amanda and Dr. Jenny working together out of our Nesconset office, we're able to increase appointment availability and make scheduling easier for our patients."
Although Dr. Bohle is new to the Nesconset office, he's no stranger to Adelberg-Montalvan patients—Adelberg-Montalvan has been referring patients to him for many years, but now he'll be providing the same high level care within the practice.
Dr. Bohle graduated Magna Cum Laude from University of Missouri at Kansas City School of Dentistry in 2005, then continued on to a General Surgery internship at Stony Brook University School of Medicine and a six-year dual degree and Oral and Maxillofacial surgery residency at Long Island Jewish Medical Center and Stony Brook Medical Center. He is a Lieutenant Commander in the Navy Reserve and a clinical assistant professor at Stony Brook School of Dental Medicine. As a fellow in the prestigious American College of Surgeons (FACS), a diplomate of the American Board of Oral and Maxillofacial Surgery, and a fellow in the American Association of Oral and Maxillofacial Surgeons, Dr. Bohle is recognized as being among the best in his field.
According to Dr. Bennet, Dr. Bohle is a welcome addition to the Adelberg-Montalvan team. "Dr. Bohle brings a depth of skill from years of experience and training. Adding this new service means we can provide surgical extractions, reconstruction after dental trauma, and pathology to our patients instead of having to refer them out to another practice. Dr. Bohle has been working closely with our orthodontic team and with our adult dentist, Dr. Sabrina, for dental implants and complex treatment plans."
To schedule an appointment with Dr. Bohle or Dr. Albin, patients should contact the practice's Nesconset location.
About Adelberg-Montalvan Pediatric Dental & Orthodontics
Adelberg-Montalvan provides comprehensive dental care to children and adults in Long Island. Services include preventive care, restorative dentistry, orthodontics, oral surgery, laser dentistry, sedation dentistry, and holistic dental care. To learn more, visit the practice's website at https://www.adelbergpediatricdental.com or contact them at one of their three locations:
4934 Sunrise Hwy.
Massapequa Park, NY 11762
Ph: 516-798-1111
62 Lake Ave., Suite A
Nesconset, NY 11767
Ph: 631-360-7337
615 Montauk Hwy.
West Islip, NY 11795
Ph: 631-661-7337