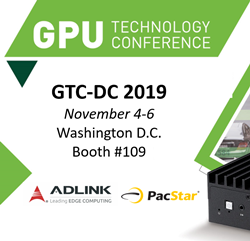 ADLINK is proud of our strong partnerships with both NVIDIA and PacStar.
SAN JOSE, Calif. (PRWEB) November 04, 2019
ADLINK Technology, Inc., a global provider of leading edge computing products, will highlight a new joint GPU enabled server for the upcoming GTC (GPU Technology Conference) DC conference with PacStar Communications. This annual event, which takes place November 4-6 in Washington D.C., is the premier AI technology conference for NVIDIA®, its partners, and customers. With more than 3,000 attendees expected, ranging from developers and researchers to policymakers and CIO's, participants will gather to discuss the latest trends in technology, including machine learning, cybersecurity, autonomous machines, HPC, intelligent video analytics, healthcare, 5G, and VR.
As an NVIDIA® Quadro Embedded Partner, ADLINK is providing the compute building blocks for the joint solution. This solution is a vertical market product that utilizes ADLINK's computing blocks and machine learning platform, as well as PacStar's product.
PacStar will introduce PacStar 453 NVIDIA GPU Enhanced Server, a small form factor, rugged high-performance server combining 12 CPU Cores, 64 MB RAM, 16 TB storage and 10 Gbps networking – accelerated with an embedded NVIDIA Quadro 512 CUDA core GPU. The new server joins the growing family of PacStar 400-Series modules enabling tactical and deployed organizations to field solutions for a vast array of computing and networking needs.
PacStar 453 is ideal for implementing AI/ML and video processing at the network edge, thanks to the addition of up to 1.8 TFLOPS of GPU processing. AI/ML and video processing hold great promise to save lives in armed conflict, enable warfighting overmatch and reduce costs for our defense forces. Applications for these technologies enable uses cases such as automated threat detection, cyber defense, robotic/autonomous systems, sensor fusion, and predictive maintenance – and now PacStar 453 makes it possible at the edge.
"ADLINK is proud of our strong partnerships with both NVIDIA and PacStar. As an NVIDIA Quadro Embedded Partner with extensive experience in embedded computing and graphics, this new solution is a testament to our technical expertise in edge computing," commented Elizabeth Campbell, General Manager of the Americas division of ADLINK Technology.
"ADLINK and NVIDIA compute building blocks enable PacStar to deliver exceptionally high quality and reliable systems our customers use in demanding environments, and we're thrilled we've been able to rely on ADLINK to collaborate closely with us in innovations in embedded systems," said Peggy Miller, Chief Executive Officer, PacStar.
To learn more about the GTC-DC conference, visit the event website at: https://www.nvidia.com/en-us/gtc-dc/
To learn more ADLINK's defense portfolio, visit us online at:
https://www.adlinktech.com/en/Defense-and-Aviation.aspx
About ADLINK
ADLINK Technology is a global leader in Edge Computing. Our mission is to facilitate the use of advanced technologies to help optimize the business performance of our customers. We provide robust boards, platforms and user interfaces; real-time data connectivity solutions; and application enablement for state-of-the-art industrial computing, such as machine learning via AI-at-the-Edge. Together, these also enable innovative end-to-end IoT solutions in support of operational excellence or new revenue streams. ADLINK serves customers across vertical markets including: manufacturing, networking and communications, healthcare, infotainment, retail, energy, transportation, and government and defense.
ADLINK has a growing eco-system of industry leading technology partners; we are a Premier Member of the Intel® Internet of Things Solutions Alliance, a strategic embedded partner of NVIDIA, and an active contributor in many standards and interoperability initiatives, including Eclipse, ETSI, OCP, OMG, OpenFog, PICMG, ROS-I, and SGET.
ADLINK's products are available in over 40 countries, either directly or through our worldwide network of value-adding distributors and systems integrators. ADLINK is ISO-9001, ISO-14001, ISO-13485 and TL9000 certified and is publicly traded on TAIEX (Stock Code: 6166).
About PacStar
Pacific Star Communications, Inc. (PacStar) is a leading provider of advanced communications solutions for a wide range of military, intelligence and commercial applications. PacStar created and manufactures its COTS-based rugged, small form factor expeditionary and mobile communications systems. Separately, it developed integrated, network communications management software, IQ-Core® Software, for the military, federal, state/local government and emergency responder markets. The company's patented IQ-Core® Software, hardware technology and integrated solutions provide secure, command, control and communications systems, particularly in remote or infrastructure starved areas. In addition, PacStar's communications systems are ideally suited for commercial/industrial organizations with mission-critical field communications requirements. For additional information, please visit https://pacstar.com, LinkedIn, and Twitter @pacstarcomm.
All trademarks are the property of their respective owners in the U.S. and other countries.