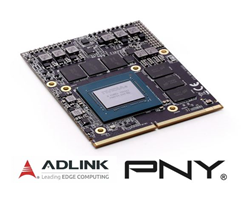 "Our exciting new partnership with PNY Technologies will expand our reach to wider commercial, embedded and OEM markets."
SAN JOSE, Calif. (PRWEB) August 06, 2020
Summary:

ADLINK and PNY announce collaboration on GPU product portfolios
Partnership enables both companies to broaden commercial, embedded, and OEM markets
Joint product portfolio includes MXM GPU modules and NVIDIA® Jetson™ Edge AI platform-based solutions
ADLINK Technology Inc., a global leader in edge computing, is pleased to announce a key partnership with PNY Technologies. ADLINK's Edge AI computing platforms will enhance PNY's portfolio of AI capable GPU offerings enabling customers to automate and innovate by being closer to their data. ADLINK's Edge AI platforms integrate hardware acceleration for deep learning workloads and provides end-to-end connectivity to generate the actionable intelligence required to achieve operational improvements, boost performance and improve efficiency. In addition to powerful MXM-based GPUs for embedded systems, the partnership also includes offerings based on the NVIDIA Jetson Edge AI platform.
"PNY enables innovative solution providers to develop and deliver powerful AI, HPC, and visualization (graphics) solutions across all key vertical market segments," said Steven Kaner, PNY's Senior VP of sales and marketing. "Complementing NVIDIA Quadro PCIe products with ADLINK's MXM single board supercomputer, and ruggedized systems suitable for the latest AIoT edge deployments, builds on our strengths. All with the world-class support and service demanded by mission-critical deployments."
One area of immediate interest is in medical applications. Modern medical practices utilize robotics and automation for standard tasks such as hospital disinfection, delivery of medical resources and care of patients under quarantine. However, productivity can be hindered as systems often operate independently. This is a vital area where ADLINK's Edge AI platforms can be applied. Communication technologies compatible with Data Distribution Service (DDS) can share data in real-time and carry out collaborative edge computing to decide the best robotic system for a task. This allows the technology to repeatedly recalculate the subsequent schedule and boost the overall efficiency of collaboration. The use of distributed edge computing boosts the quality and stability of the data interface with the medical system to realize a smart data-sharing model for smart medicine – all with the ultimate goal of improving patient outcomes.
Distributed AI systems can also realize the infrastructure required for smart cities, including smarter airports (or other types of transportation facilities). Adverse weather conditions such as dense fog or rain often hampers visibility and results in delays and cancellations. Edge technology provides real-time intuitive monitoring and improved visibility at night and during adverse weather.
A major airport with annual traffic of 50 million-passengers has tackled the visibility challenge by developing an enhanced video surveillance system (EVS) to cover any blind spots from the control tower, giving them a panoramic view of the airfield. At the heart of its intelligent EVS system, the airport is deploying ADLINK's AVA-5500 AI-enabled Video Analytics (AVA) platform with a powerful MXM form factor GPU to analyze every blind spot. Each AVA-5500 connects securely to a group of video input streams, implements advanced graphics and artificial intelligence processing, and uploads the results to backend servers.
"Our exciting new partnership with PNY Technologies will expand our reach to wider commercial, embedded and OEM markets," commented Elizabeth Campbell, General Manager, ADLINK Americas. "The key focus will be on ADLINK Edge AI solutions such as MXM GPU Modules, AI-enabled solutions based on NVIDIA Jetson platform and Edge AI servers. We look forward to a successful collaboration."
For media inquiries please contact media@adlinktech.com
About ADLINK Technology
ADLINK Technology Inc. is a global leader in edge computing. Our mission is to affect positive change in society and industry by connecting people, places and things with AI. The company offerings include robust boards, real-time data acquisition solutions and application enablement for AIoT. ADLINK serves vertical markets including manufacturing, communications, healthcare, aerospace, defense, energy, infotainment and transportation. ADLINK is a Premier Member of the Intel® Internet of Things Solutions Alliance, a partner of NVIDIA, and a contributor to standards initiatives such as Eclipse, OCP, OMG and ROS2 TSC. ADLINK is ISO-9001, ISO-14001, ISO-13485 and TL9000 certified and is publicly traded on TAIEX (Stock Code: 6166). Learn more at http://www.adlinktech.com.
About PNY Technologies
For over 35 years and thanks to a strong partnership with AI, HPC, and graphics industry leader NVIDIA, PNY has developed a broad and solutions-rich partner ecosystem across NALA that includes graphics, HPC and AI computing, across all major vertical markets. Providing engineers, researchers and visualization clients with cutting-edge NVIDIA Quadro solutions, PNY understands the needs of its clients, offering professional technical support and a constant commitment to customer satisfaction. PNY delivers a full spectrum of GPUs and SSDs products that enable VDI, HPC and AI environments. Headquartered in Parsippany, New Jersey (USA), PNY maintains facilities in North America, EMEA, India and Asia.
All trademarks are the property of their respective owners in the U.S. and other countries.