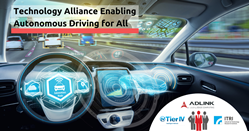 "This is a huge milestone in ADLINK's journey to develop cutting edge technologies for self-driving cars."
SAN JOSE, Calif. (PRWEB) June 22, 2020
ADLINK Technology Inc., a global leader in edge computing with a mission to affect positive change in society and industry by connecting people, places and things with AI, has partnered with Tier IV and the Industrial Technology Research Institute (ITRI) to help enable autonomous driving for all. The alliance will focus on jointly developing intelligent transportation and traffic management systems based on Autoware, open-source self-driving technology. The alliance plans on developing Proof of Concept (PoC) field tests on public roads with local government, starting in Taiwan, and will continue to expand Autoware research, knowledge and ecosystems.
"This is a huge milestone in ADLINK's journey to develop cutting edge technologies for self-driving cars," said Eric Kao, General Manager of ADLINK's Networking, Communication & Public Sector business unit. "By combining the leading domain expertise of Tier IV and ITRI with our extensive know-how in AIoT, edge computing and defense-grade reliability and ruggedness, this strategic partnership will allow us to jointly develop game-changing solutions for the autonomous vehicle market."
Autoware is a complete open-source software stack for self-driving technology currently used by more than 200 organizations including the Federal Highway Administration (FHWA) of the United States Department of Transportation (USDOT), automotive manufacturers and start-ups. The alliance among ADLINK, Tier IV and ITRI aims to create more synergy between corporate development and academic research for autonomous vehicles and self-driving accessibility.
"Operational design domain (ODD), open-source technology and ecosystem are key to building successful autonomous vehicles and related systems. We're excited to have ADLINK and ITRI's partnership in expanding Autoware," said Shinpei Kato, Founder and CTO of Tier IV and Board of Directors of the Autoware Foundation.
"ITRI has been developing autonomous driving technology and collaborating with industrial partners for local field trial applications sponsored by the Ministry of Economic Affairs (MOEA) in Taiwan. This alliance is a great opportunity to extend our business and technology partnership with Tier IV and ADLINK worldwide," said Dr. Tzi-Cker Chiueh, ITRI's Vice President and General Director of Information and Communications Research Laboratories.
With a focus on open-source technology the new alliance will combine edge AI, self-driving software and industrial research to collaborate on Proof of Concepts (POCs) with local government for field tests on public roads. Starting in Taiwan, ADLINK, Tier IV and ITRI hope to expand Autoware adoption, research and development to make autonomous for all a reality.
For media inquiries kindly contact branding@adlinktech.com
About ADLINK Technology Inc.
ADLINK Technology is a global leader in edge computing. Our mission is to affect positive change in society and industry by connecting people, places and things with AI. The company offerings include robust boards, real-time data acquisition solutions and application enablement for AIoT. ADLINK serves vertical markets including manufacturing, communications, healthcare, aerospace, defense, energy, infotainment and transportation. ADLINK is a Premier Member of the Intel® Internet of Things Solutions Alliance, a partner of NVIDIA, and a contributor to standards initiatives such as Eclipse, OCP, OMG and ROS2 TSC. ADLINK is ISO-9001, ISO-14001, ISO-13485 and TL9000 certified and is publicly traded on TAIEX (Stock Code: 6166). Learn more at http://www.adlinktech.com.
About Tier IV, Inc.
Tier IV, a deep-tech startup based in Japan, is dedicated to providing shared technology to build safe intelligent vehicles that will enable as many individuals and organizations as possible to remove barriers of time and space, leading to a better society in which all people benefit from making autonomous vehicles a reality. Founded in December 2015, Tier IV has led the development of the world's first open-source software for autonomous driving, also known as Autoware, and applied it for proof of concept of last-mile driverless mobility and logistics. Tier IV and its global partners continue to provide turn-key solutions to deploy Autoware-based products and commercialize autonomous vehicles all over the world. Learn more at https://tier4.jp/en/.
About Industrial Technology Institute
Industrial Technology Research Institute (ITRI) is one of the world's leading technology R&D institutions aiming to innovate a better future for society. Founded in 1973, ITRI has played a vital role in transforming Taiwan's industries from labor-intensive into innovation-driven. It focuses on the fields of Smart Living, Quality Health, and Sustainable Environment.
Over the years, ITRI has incubated over 280 innovative companies, including well-known names such as UMC and TSMC. In addition to its headquarters in Taiwan, ITRI has branch offices in the U.S., Europe, and Japan in an effort to extend its R&D scope and promote opportunities for international cooperation around the world. For more information, please visit https://www.itri.org/eng.
All trademarks are the property of their respective owners in the U.S. and other countries.