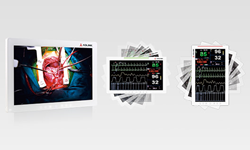 "The MLC 8 series offer high computing power and convincing graphical representations."
SAN JOSE, Calif. (PRWEB) April 30, 2020
ADLINK Technology, a global leader in edge computing, introduces its new generation of All-in-One medical panel computers, the MLC 8 series, to help hospitals in digital transformation. Digital transformation with benefits of improved efficiency and quality of patient services and care is sweeping the healthcare sector. Under the grand plan for digitization, ADLINK's MLC 8 series offers hygienic design, superb performance, and configuration versatility tailored to meet application requirements for better patient care. Medical computers that ensure high-quality patient care, support data exchange and processing, and are designed for high reliability in mission critical procedures play an essential role in today's digitized healthcare institutions.
"Representative of these are our MLC 8 medical computers, available in 21.5, 23.8, and 27 inch panels. Thanks to the 8th generation of Intel® Core™ processors, they offer high computing power and convincing graphical representations. The MLC 8 series comes with a completely sealed and easy-to-clean housing, touch control buttons on edge-to-edge protective glass, which are visible depending on the use of the device in landscape or portrait orientation, as well as an LED indicator light bar," commented André Fortdran, Product Marketing Manager at ADLINK.
The MDD class I certified MLC 8 series adapts to these respective requirements and budget specifications due to the manifold configuration options. Applications include patient vital signs monitoring, anesthesia documentation, clinical diagnostic support, and PDMS systems.
Easy to Clean and Disinfect
The IP65-rated MLC 8 series features completely sealed aluminum housing for easy cleaning. Due to the unique design without disturbing visible screw heads and venting holes, the MLC 8 series can be easily and quickly cleaned with common disinfectants and cleaning agents. This ensures a high level of hygiene in bacterially sensitive environments such as the operating room.
High Functionality and Flexibility
The MLC 8 series has been designed with extensive I/O flexibility and features two high-resolution DisplayPort outputs for connecting external monitors. Mobility and flexibility are ensured by four internal slots for additional storage media, frame grabbers, Wi-Fi or Bluetooth, RFID modules, and PCI Express expansion cards. Data loss prevention is provided by the optional UPS backup battery.
Best In-class, Intuitive User Interface
High performance, sleek looking illuminated touch keys on the front glass eliminates protruding knobs and switches, providing better operational experiences even with gloves on. These touch-keys makes it easy for power, brightness control and digital keyboard access. The MLC 8 also includes two programmable function keys for custom key actions.
Increased Safety
In addition to the permanently installed galvanically isolated network connections, the MLC 8 series can optionally be equipped with galvanically isolated USB and serial interfaces for connection to external non-medical devices. Compliant with 2x MOPP, the MLC 8 series is classified as class I medical device under the MDD and meets the comprehensive requirements of the current standards IEC / EN-60601-1 (edition 3.1) and IEC / EN-60601-1-2 (4th edition).
For more information about the MLC 8 series, please visit ADLINK online at: https://www.adlinktech.com/Products/Medical_Panel_Computer_Tablet/Medical_Panel_PC_Display/MLC_8-21_23_27?lang=en.
About ADLINK
ADLINK Technology is a global leader in edge computing. Our mission is to affect positive change in society and industry by connecting people, places and things with AI. We do this through the delivery of leading edge, robust solutions addressing our customer's critical business and technology challenges. Our offerings include robust boards, modules and systems; real-time data acquisition solutions; and application enablement for Artificial Intelligence + Internet of Things (AIoT).
ADLINK serves customers in many vertical markets including: manufacturing, networking and communications, healthcare, military and aerospace, infotainment, retail, energy and transportation. We are a Premier Member of the Intel® Internet of Things Solutions Alliance, a partner of NVIDIA, and a contributor to many standards and interoperability initiatives, including Eclipse, OCP, OMG, PICMG, SGeT and ROS-I.
ADLINK's products are available in over 40 countries, either directly or through our worldwide network of value-adding distributors and systems integrators. ADLINK is ISO-9001, ISO-14001, ISO-13485 and TL9000 certified and is publicly traded on TAIEX (Stock Code: 6166).
For more information, please visit: http://www.adlinktech.com.
All trademarks are the property of their respective owners in the U.S. and other countries.