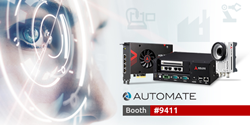 "With the combination of industrial hardware, advanced data connectivity, Industry leading software and vendor-agnostic cloud compatibility, ADLINK enables new capabilities and applications for AI at the edge."-Jacky Lin, Senior Sales Director at ADLINK
SAN JOSE, Calif. (PRWEB) April 04, 2019
ADLINK Technology, Inc., a global provider of advanced Edge Computing solutions will showcase the latest machine vision and heterogeneous computing platforms for AI at the edge applications at Automate, April 8-11, at the McCormick Place, Chicago, in Booth #9411.
ADLINK will feature demonstrations of the company's AI-accelerated vision systems and
computing platforms, including:

A wood inspection and classification application with a Neon-J all-in-one smart camera powered by NVIDIA's Jetson TX2 AI computing module
An automated optical inspection (AOI) application, based on ADLINK's industry leading heterogeneous computing platform with NVIDIA Quadro embedded GPU
A new, AI-accelerated compact vision system featuring NVIDIA® Jetson TX2 with four independent PoE ports, and integrated digital I/O
AI Plug and Play frame grabbers featuring Intel® Myriad™X VPU and NVIDIA® Quadro® P1000/ P2000 graphics cards in an industry standard PCI Express® form factor
New Open frame and highly configurable panel computers that allow machine builders to significantly decrease project development time
ADLINK's AI-accelerated vision systems and heterogeneous computing platforms enable AI inferencing and training applications with optimized system architectures. Leading manufacturers now can leverage ADLINK's Plug and Play AI and heterogeneous computing platforms for deep-learning-based image analysis.
"We are excited to collaborate with other leading technology companies to bring AI-accerelated machine vision and edge computing solutions to our customers." said Jacky Lin, Senior Sales Director at ADLINK. "With the combination of industrial hardware, advanced data connectivity, industry leading software and vendor-agnostic cloud compatibility, ADLINK enables new capabilities and applications for AI at the edge."
To learn more about our technology and capabilities please visit us at booth #9411 or visit our website at http://www.adlinktech.com.
About ADLINK
ADLINK Technology is a global leader of Edge Computing with a mission to reduce the complexity of building IIoT systems. ADLINK provides hardware, connectivity, and software to form complete IIoT solutions for industrial automation and manufacturing. Our complete IIoT solutions include embedded building blocks and intelligent computing platforms, fully featured Edge platforms, data connectivity and extraction devices, secure software for data movement, and micro services to monitor, manage, and analyze data-streaming assets and devices.
ADLINK is a Premier Member of the Intel® Internet of Things Solutions Alliance, closely collaborates with NVIDIA to bring AI to the edge, and is active in several standards organizations and interoperability initiatives, including PCI Industrial Computer Manufacturers Group (PICMG), Standardization Group for Embedded Technologies (SGeT), Open Fog Consortium, European Telecommunications Standards Institute (ETSI), Open Compute Project (OCP), Eclipse IoT, and ROS-Industrial Consortium for robotics. ADLINK products are available in over 40 countries across five continents with a worldwide distribution network. ADLINK is ISO-9001, ISO-14001, ISO-13485 and TL9000 certified and is publicly traded on the TAIEX Taiwan Stock Exchange (stock code: 6166).