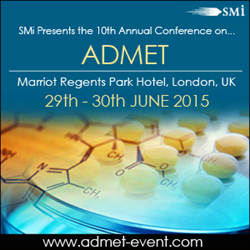 Discover the latest novel technologies being used in the field of Predictive Toxicology and ADME/Tox
London, UK (PRWEB UK) 20 May 2015
SMi's 10th annual ADMET conference will provide essential insight into the latest novel technologies being used in the field of Predictive Toxicology and ADME/Tox. With drug induced liver and Cardiotoxicity still being major causes of drug attrition rates, the programme will feature case studies on development of human cellular models and state-of-the-art in vitro used to assess toxicity.
Renowned industry expert Gerry Kenna, Director at FRAME will be presenting on: Predicting human drug-induced hepatotoxicity on day 1, he will be discussing; Iodiosyncratic vs. dose dependent drug hepatotoxicity; drug-related initiating mechanisms and patient-related susceptibility factors; value and limitations of conventional toxicity studies in animals; opportunities provided by transgenic and chimeric humanized animal models; use of in vitro models to de-risk drug related liabilities and challenge of tackling inter-species and inter-individual variability.
In addition, an exclusive interview with Frame's Director, Gerry Kenna has just been released. When asked: What new developments in your area do you envision for 2015? How can this be actioned sooner rather than later to help lower costs and drug failure rates?

Two outstanding and inter-dependent gaps for toxicity evaluation are how best to integrate complex data types; and to undertake in vitro/in vivo scaling.
This is being tackled by adapting the PBPK based approached used to underpin ADME prediction. Substantial further progress can be expected in the near future.
Expert speaker panel for 2015 includes: Araz Raoof, Head Scientific Affairs & Analysis, Janssen Pharmaceutical, Professor Ian D. Wilson, Professor of Drug Metabolism, Imperial College London, Laurent Salphati, Senior Scientist, Genentech, Thierry Lave, Global Head DMPK & Tox Project Leaders and Modelling & Simulation, F. Hoffmann-La Roche, Peter Clements, Director of Pathology, GSK, Stephen Fowler, Group Leader, In Vitro ADME, F. Hoffmann-La Roche, Franck Atienzar, Associate Director In Silico In Vitro Toxicology, UCB BioPharma SPRL, Peter Hoffmann, Executive Director, Pre-Clinical Safety, Novartis Institutes for BioMedical Research, Mario Monshouwer, Senior Director Drug Metabolism Pharmacokinetics & Bioanalysis, Johnson & Johnson
The conference will draw focus on: Progresses in AMDET-enabling technologies, Human ADME studies and challenges with standardisation, Emerging assays to monitor cardiotoxicity, Lead optimisation of PK/PD modelling, In Silico modelling techniques, Drug-Drug interaction, Learn new strategies of optimising in vitro/ in vivo extrapolation, Translation issues of animal-derived metabolic results to predict human drug metabolism, Emerging assays to monitor cardio toxicity and hepatotoxicity, Regulatory guidelines on safety and toxicity risk assessments
In addition to the event there will be an interactive post conference workshop taking place on the 1st July 2015 entitled: ADME(T) Strategies for Pharmacological Space Beyond Ro5 and Eukaryotic Enzyme Inhibitors, hosted by Constance Höfer, Chief Development Officer, Priaxon AG
ADMET is proudly sponsored by: Corning Life Sciences & Sigma-Aldrich
A brochure with a full list of speakers and presentations is available to download online. For further information or to book a place, visit Marriott Regents Park Hotel, London, UK
http://www.admet-event.com/prweb
Delegate enquiries: Contact Magdalena Georgieva on +44 (0)20 7827 6148 or email mgeorgieva(at)smi-online(dot)co(dot)uk
ADMET is proudly sponsored by: Corning Life Sciences & Sigma-Aldrich
10th Annual ADMET conference
29th & 30th June 2015
Marriott Regents Park Hotel, London, UK
http://www.admet-event.com/prweb