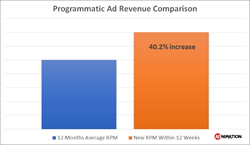 The statistics clearly show a verified method for increasing programmatic ad revenue by an average of over 40% in 3 months
Jerusalem, Israel (PRWEB) May 04, 2017
Today, Adnimation Ltd., a state-of-the-art Israel-based website advertising inventory solution for maximum revenues with minimum fees, has confirmed that it has documented industry-leading client success stories after detailed analysis was conducted on over 425 content websites. The statistics clearly show a verified method for increasing programmatic ad revenue by an average of over 40% in 3 months. The exceptional figures have attracted a flood of interested publishers keen to experience a taste of the company's formula for success.
On this, the 2nd anniversary of the renewed launch of the programmatic ad revenue powerhouse, Adnimation is proud to release a complete analysis of its monetization service results. Content websites working with the company reached an average increase of 40.2% within a 12 to 15 week period when compared to a benchmark of annual average return calculated by revenue divided by page views (RPM).
"It's not header bidding only and it's not just programmatic direct within Google Adx, it's our holistic approach to selling ad inventory," explained, Maor Davidovich, Co-Founder, Adnimation "Monetization requires expertise, experience, and a lot of hard work."
"Claims of one technology to solve all ad sales challenges never deliver and so our promise to publishers consists of 50% technology and 50% service," added, Tomer Treves, Co-Founder, Adnimation "Sometimes our professional monetization experts leave the dual monitor with all the numbers and actually pick up the phone to call an ad network or exchange. It takes a human effort."
The analysis that has been released includes 425 website clients who hired Adnimation to sell display ad inventory. In fact, in choosing the company, they were able to outsource programmatic ad sales to the Israel-based team. From news and politics to food and sports all the way to niches like fashion and lifestyle, the websites publish content in a broad spectrum of categories, with over 70% of visitors in the U.S. market. All of the websites vary in size - the largest of these registers over 20 million monthly visitors and the smallest has just under 1 million, together placing billions of online ads.
Despite the differences in size and content niches, an outstanding 100% of the websites showed positive growth and higher ad revenue in a range between 28% and 84%. "The increase in ad revenue depends on the starting point. Clearly, sites without header bidding and with no access to Google Adx gain much more from working with us, yet even publishers who were already working with the major exchanges like OpenX, Sovrn, and Google Adx still registered a significant increase in bottom line revenue," noted, Treves.
Adnimation is trusted by website owners and global internet giants who consider the company a personal Chief Revenue Officer (CRO). Its key capabilities for empowered publishing and redefining testing include: Website Monetization, Programmatic Ad Sales, Site Speed, Direct Campaign Sales, Dynamic Ads, Revenue Analytics, Header Bidding Technology, Revenue Safety, and Video Monetization.
About Adnimation:
Adnimation Ltd. offers a team of highly professional monetization experts who join content publishers to help them with programmatic ad sales. Working mainly in the U.S. market and now expanding beyond, Adnimation relieves publishers of the need to juggle between constantly changing advertising technologies by managing the entire ad inventory for the publisher. We are proud to be a publisher-oriented company and not an ad network, empowering publishers to earn more with less work while creating more high-quality content. Visit: http://www.adnimation.com/.