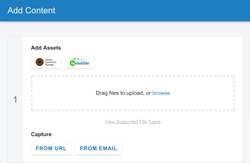 Creative brilliance can't drive revenue if it's locked up in a creative brief, stalled in review, or forgotten on someone's laptop.
Las Vegas, NM (PRWEB) October 18, 2017
inMotionNow, a leading provider of workflow management solutions for marketing and creative teams, has unveiled a new integration with Adobe® Experience Manager at the Adobe MAX conference (Booth #234). The inMotion product facilitates the flow of creative work from request to approval. The final project can then be directly added in Experience Manager Assets for teams to access. The new integration removes complexity and simplifies creative workflows by weaving these two important tools together.
"One of the value propositions inMotionNow delivers to creatives is automating the administrative aspects of creative work that sap valuable time that would be better spent on design thinking," said inMotionNow CMO Alex Withers. "Our integration with Adobe Experience Manager helps our joint customers by streamlining the management of assets between the two solutions."
The integration is simple to setup and enables users to download and upload files to Experience Manager directly from within inMotion. For example, a project manager can add files approved through the inMotion workflow for publication to designated Experience Manager projects – adding new graphics for a Halloween promotion or referencing last year's Halloween promotion.
The product integration is flexible and can support a counter workflow as well. For example, a new asset added to Experience Manager can be uploaded into the inMotion review and approval workflow from within the inMotion platform.
"inMotionNow serves creative and marketing talent who are also typically heavy users of Adobe products," added Withers. "This particular integration was a popular request of our joint customers and we're excited to unveil it in time for the Adobe MAX conference."
The inMotionNow creative workflow solution helps marketers and creatives better collaborate to produce the creative assets marketers need to build brand awareness and drive leads. The latest integration follows a number of new enhancements the company has released already this year, including the following:

New review and approval module. In January, the company released an all-new online review and approval module. The tool brings clarity, collaboration and speed to what is often a cumbersome process of getting creative assets edited and approved for distribution. In large corporate environments, reviews alone can take just long as the project itself; inMotionNow customers get creative assets to market 76 percent faster.
First-of-a-kind HTML email review feature. In May, inMotionNow provided users with a highly requested ability to markup HTML email proofs within the online review platform. Rather than passing HTML files around by email, creatives and marketers can post these to a collaborative environment, with threaded context, regarding the campaign, target audience and goals – which in turn facilitates an expedited review and approval process.
Security and compliance enhancements. In August, the team added secure creative review and audit trail features designed to meet the needs of those working in regulated markets. For example, food packaging and pharmaceutical enterprises have specific FDA compliance requirements in labeling and digital signatures such as 21 CFR 11.
"Creative brilliance can't drive revenue if it's locked up in a creative brief, stalled in review, or forgotten on someone's laptop," said Withers. "inMotionNow is focused on streamlining the entire process, providing headspace for creatives to do the what they do best, and ultimately, get polished products into market delivering business results for an organization sooner rather than later."
Adobe Experience Manager in Adobe Marketing Cloud, part of Adobe Experience Cloud, enables brands to easily manage content and assets, and compose engaging digital experiences across channels and properties.
inMotionNow is a Silver Sponsor of the Adobe MAX conference being held in Las Vegas from October 18-20, 2017. All attendees should feel welcome to stop by the inMotionNow booth (#234) to learn more or ask questions, plus pick up their free 'Creative Teams Rock' T-shirt!
# # #
About inMotionNow, Inc.
inMotionNow is a leading provider of workflow management solutions for marketing and creative teams, facilitating efficiency and productivity from project kickoff to final approval. inMotion, the company's flagship SaaS product, simplifies every phase of the creative production process, delivering measurable value to enterprise clients like DuPont, the LA Dodgers, NASDAQ, and Pep Boys. The application allows project stakeholders to manage, track, and collaboratively review their print, video, and interactive projects in a centralized online environment. With a user-friendly interface and dedicated customer success team, inMotionNow helps creative and marketing teams of every variety automate their workflow and do the work they love.
About Adobe Marketing Cloud
Adobe Marketing Cloud, part of Adobe Experience Cloud, empowers marketers to deliver experiences that differentiate their brands. Adobe Marketing Cloud includes Adobe Experience Manager, Adobe Target, Adobe Campaign, Adobe Social and Adobe Primetime, and helps brands manage, personalize, optimize and orchestrate content, campaigns and customer journeys. The tie-in with Adobe Creative Cloud® makes it easy to quickly activate creative assets across all marketing channels. Brands such as Barclays, Hyatt, Mastercard, NetApp, Philips, Scottrade, Sony Interactive Entertainment, Travelocity, T-Mobile, UBS, Verizon Wireless and Wyndham Hotels and Resorts use Adobe Marketing Cloud.
Media Contacts:
Ellie Baldini
inMotionNow, Inc.
919-459-8769
Ebaldini -at- inmotionnow -dot- com
Frank Strong
PR for inMotionNow
202-352-5920
Frank -at- swordandthescript -dot- com