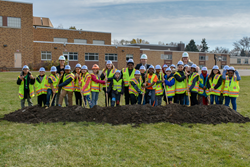 "One of the reasons we selected [Adolfson & Peterson Construction] was because they are... creating opportunities for our students to learn during the construction process… and they are very, very safety conscious which we are very appreciative of…" said District 622 Superintendent, Christine Osorio
NORTH ST. PAUL, Minn. (PRWEB) November 09, 2018
Construction is underway at North St. Paul-Maplewood-Oakdale School District 622's Castle and Richardson Elementary Schools. Celebratory ground breaking ceremonies took place at each elementary school with attendance from City Council Members, Minnesota State Senator, District 622 Superintendent, Assistant Superintendent, Director of Business Services, Director of Community Education, Operations Supervisors, School Board Members, North St. Paul-Maplewood-Oakdale Teachers Union representative, elementary school principal, students and staff, LHB Architects and Adolfson & Peterson Construction (AP).
AP has renovated or built more than 1,500 elementary, middle and high school campuses, making them one of the largest builders of K-12 and specialty charter schools in the nation. Their K-12 teams are experienced in new construction, master planning and complex occupied renovations, working closely with school administrators to ensure student safety and learning are never compromised.
At the groundbreakings District 622 Superintendent, Christine Osorio said, "Today is truly a new beginning for District 622. We are so excited to begin renovating these buildings and provide really amazing learning environments for our students and future generations… one of the reasons we selected [Adolfson & Peterson Construction] was because they are really, really student focused. They are creating opportunities for our students to learn during the construction process… and they are very, very safety conscious which we are very appreciative of…"
AP was awarded these two projects with LHB Architects in March 2018. Castle Elementary will not only be receiving a new 17,962 SF addition, but also an interior remodel of the existing building. The addition will accommodate ten new classrooms as well as a new STEM area. The building is comprised mainly of concrete and steel framing. New mechanical systems will also be installed throughout the whole building. The exterior will utilize brick and metal panels to tie into the existing exterior.
Richardson Elementary will receive a new addition as well as an interior refresh, including a new courtyard in the center of the building for outdoor classroom space. The new addition will allow for a Pre-K area, gym extension, new administrative area and four new classrooms. The building is comprised mainly of concrete, masonry block and steel framing. The exterior will utilize brick and metal panels to tie into the existing exterior.
AP's experience will help to provide a smooth construction process, allowing school administrators and educators to focus on what matters most - the students. Castle and Richardson additions and renovations will be completed late summer 2019, with other renovation areas being completed late December 2019.
About AP
Adolfson & Peterson Construction (AP) is a family-owned company that is consistently ranked among the top construction managers and general contractors in the nation. Headquartered in Minneapolis, Minnesota, the company delivers innovative and collaborative building solutions for clients across the country from its regional offices in Dallas, Denver, Minneapolis and Phoenix. Founded in 1946, AP serves clients in the Aquatics and Recreation, Healthcare, Higher Education, Hospitality, Industrial, K-12 Education, Multi-Family, Municipal, Office and Senior Living market sectors. For more information, visit http://www.a-p.com or follow us on Facebook, LinkedIn and Twitter.