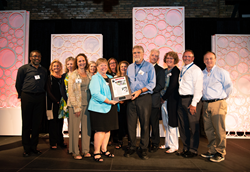 MINNEAPOLIS (PRWEB) August 03, 2018
Three Adolfson & Peterson Construction (AP) projects were awarded Top Projects of 2017 by Finance & Commerce. A panel of judges in construction and related industries looked at several factors–difficulty, creativity in design, innovative construction techniques, cooperation among contractors and management and sustainability efforts–to select these honorees. Top Projects recipients were recognized at the award ceremony on Thursday, July 26 at the Nicollet Island Pavilion. Project teams from Hennepin County Library-Webber Park, The Landing Hotel and Residences and the University of Minnesota Main Energy Plant were in attendance to graciously accept these awards.
The new 8,400-square-foot Hennepin County Library-Webber Park is open and flexible, with a welcoming environment designed to meet the learning and information needs of the community. It offers a variety of spaces to read and gather, including meeting rooms and study areas for all ages, a children's area and increased access to public-use technology, computers and library collections. Located in the Camden neighborhood of Minneapolis, this new Hennepin County facility was designed with input gathered through a successful community engagement phase.
The 5th and final block of the multi-phase 14.5-acre Promenade of Wayzata features The Landing Hotel and Residences (The Landing). The 300,000-square-foot building consists of underground and elevated three-level parking, a four-story 92-room boutique hotel with a stunning two-story restaurant, prestigious banquet facilities, a Scandinavian inspired spa and 14,000-square-feet of premier retail space. The residence portion of the building includes 30 high-end for-sale private condominiums. The Landing is the first hotel to be built on Lake Minnetonka in 50-years and the first hotel in Wayzata in over a century.
As part of the University of Minnesota's goal to reduce carbon emissions 50% by the year 2020, the University of Minnesota Main Energy Plant retrofitted a historical steam plant building built in 1912 with state-of-the-art combined heating and power equipment, including the installation of a jet engine turbine to simultaneously produce electricity and thermal energy in a single process. This project is one of the only combined heat and power projects in the nation to utilize and retrofit a building of this size and age.
About AP
Adolfson & Peterson Construction (AP) is a family-owned company that is consistently ranked among the top construction managers and general contractors in the nation. With a mission of building a better tomorrow, AP focuses on projects that enhance communities where we live and work.
Founded in 1946, AP is known within the building industry for outperforming our competition with innovative and collaborative approaches. AP has built longstanding relationships with our clients and communities by serving the commercial, education, healthcare, hospitality, industrial, multifamily, municipal, recreation and senior living market segments. Our passionate employees with an average tenure of more than seven years work from offices in Dallas, Denver, Minneapolis and Phoenix. For more information, visit http://www.a-p.com and follow us on Facebook, LinkedIn and Twitter.