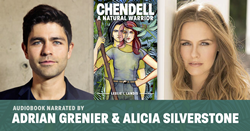 "Adrian and Alicia bring their full passion and authenticity as true warriors in the battle for nature's survival," Says Leslie Landis author of CHENDELL
LOS ANGELES (PRWEB) April 24, 2019
Climate change is an issue affecting everyone, and two activist Hollywood stars are adding their voices to an audiobook version of a novel in which superheroes fight to save the planet from environmental destruction.
Actor Adrian Grenier and actress Alicia Silverstone have signed on as narrators for Leslie Landis' novel CHENDELL: A Natural Warrior (http://www.chendell.com). The book is an adventure in ecological survival featuring two young people who have the ability to communicate with the natural world. The audiobook, executive produced by Waldo LLC, will be available this summer.
"Adrian and Alicia bring their full passion and authenticity as true warriors in the battle for nature's survival," Landis says. "They give strong and beautiful voice to the main characters, Jamie and Robin, who are inspiring and symbolic of today's younger generations that are marching around the world, deeply concerned about their future."
CHENDELL: A Natural Warrior shows how superpowers – and by extension, the best of human nature – can be used to help mankind. Jamie Chen's unique gift is understanding the silent talk of plants. Robin Dell can communicate with insects.
Spiced with humor, danger, love, and emotion, the book also depicts how people from different worlds can join together in a common cause and bring positive change. Jamie and Robin are more alike than they initially realize, and a research trip to the Peruvian rainforest changes everything for them. Using heightened powers, the two main characters go on a transformative mission to fight the forces behind ecocide to save the earth. They ultimately join as one warrior – known as CHENDELL.
Grenier, best known for his starring role in the long-running HBO series Entourage and for memorable parts in such films as Drive Me Crazy, is also a passionate environmentalist. He co-founded Lonely Whale – inspiring empathy for marine life and action for ocean health – and in 2017 was appointed a United Nations Environment Programme Goodwill Ambassador, advocating for a collaborative approach to address the world's environmental issues.
Silverstone is noted for being an environmental and animal rights activist. She received a Golden Globe nomination for best actress – television series, musical or comedy – in the NBC series Miss Match. She starred in the comedy movie hit Clueless and played Batgirl in Batman & Robin.
About Leslie Landis
Leslie Landis (http://www.chendell.com) is the author of CHENDELL: A Natural Warrior. She holds an M.A. in psychology and is a licensed marriage and family therapist. Landis also has been a legislative assistant to a U.S. senator, a teacher, financial planner, a bank trust officer, and an associate director in television.