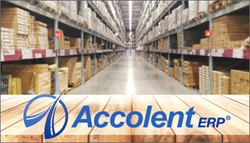 Taking a team approach will ensure that our customers' implementation processes are quick and easy.
NOVATO, Calif. (PRWEB) August 23, 2018
ADS Solutions, a leader in cloud-based ERP software used by wholesale distributors, light manufacturers, and service-based businesses, today announced that it is building its implementation teams to meet the growing demand from companies that want to get up and running quickly on Accolent ERP.
ADS Solutions' Accolent ERP® software is a fully integrated end-to-end ERP platform built on a web architecture that can be deployed in the Cloud or installed on-premises. Because Accolent ERP is fully integrated and covers the complete business processes for wholesale distribution, light manufacturing and services businesses, it eliminates the need for spreadsheets, for multiple, disconnected systems and duplicate entry. Accolent ERP is designed to automate many of the routine business processes used in these types of businesses.
Accolent ERP implementation assistance is available to customers through ADS Solutions' internal teams and 3rd party consultants and value-added resellers. "Taking a team approach," says Ann Grace, Director of Marketing and Partner Alliances at ADS Solutions, "will ensure that our customers' implementation processes are quick and easy." With the right resources and focus, Accolent ERP implementations can typically be completed in a matter of months.
Accolent ERP offers a full package of self-help tools which allows a customer to implement the software itself if it prefers. If a customer wants to self-implement, ADS Solutions' implementation teams can work with the customer to assist on an as-needed basis. Alternatively, ADS Solutions can manage the whole implementation for a customer, or the customer can contract with a 3rd party implementation specialist or value-added reseller. ADS Solutions partners with its VARs and consultants to ensure that its customers have a full set of implementation options to choose from.
ADS Solutions is currently accepting inquiries from consultants and resellers who would like to become certified Accolent ERP implementation partners and join its team. Implementation partners go through significant training and must be able to demonstrate proficiency in implementing and using the software before they become certified.
"Our Certified Implementation Partners are leading professional services providers who deliver outstanding advice, consulting, technical and implementation services to Accolent ERP end-customers," said Bill Jagla, Head of Customer Support. "They are critical to our customers' success, and by building implementation teams, ADS Solutions hopes to serve its customers quicker and more efficiently."
About ADS Solutions®
ADS Solutions is a leader in providing powerful, intuitive and easy-to-use Cloud ERP software to small and medium-sized businesses. ADS Solutions' Accolent ERP software runs completely in the AWS PaaS Cloud and delivers fully integrated, end-to-end functionality for wholesale distribution, light manufacturing and services businesses including sales, inventory control, accounting, warehouse management, fulfillment, purchasing, and e-commerce capabilities. ADS Solutions is headquartered in the San Francisco Bay Area, in Novato, CA.
For product information, find out more at https://www.adssolutions.com.