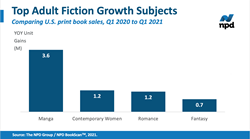 The adult fiction titles that made the biggest gains in the first quarter were heavily amplified by screen and social media discovery
PORT WASHINGTON, N.Y. (PRWEB) April 26, 2021
In the first quarter of 2021, the adult-fiction category for print books in the United States, an important indicator of book engagement, posted its highest first-quarter sales since 2013. Adult fiction book sales in January through March 2021 reached 39 million units, growing 35% compared to the first quarter last year. according to The NPD Group (http://www.npd.com). This growth in adult fiction does not appear to be related to the pandemic, however, as adult fiction sales also increased by one-third (33%) in the first quarter of 2021, compared to the same quarter two years prior.
"The adult fiction titles that made the biggest gains in the first quarter were heavily amplified by screen and social media discovery," said Kristen McLean, books industry analyst for NPD. "With consumers still spending a lot of time at home, readers are discovering their next reads through what they are watching on TV and reading about online, rather than through browsing the shelves at their local bookstores, as they once did.
Leading fiction growth subjects: manga, women's fiction, and romance
Growth in Japanese comics and graphic novels, known as "manga," was supported by the growing popularity of Japanese animated content, or "anime," on Netflix and other subscription video on-demand (SVOD) services, as well as through active sharing in specialty fan communities online. Manga print book sales in the U.S. increased by 3.6 million units, year over year, in the first quarter of 2021. The first volume of "Chainsaw Man," by Tatsuki Fujimoto (Viz Media), was the biggest seller in the category. "The highly anticipated anime based on the books is expected to release this in the U.S. this fall, which should make this one of the blockbusters of the year," McLean said.
Contemporary women's fiction book sales in the first quarter increased by 1.2 million units, year over year, led by Kristen Hannah's front-list title, "The Four Winds." Hannah's backlist title, "Firefly Lane," also recorded strong sales, following its Netflix-adaption premiere in February. The romance fiction category also rose by 1.2 million units, led by Julia Quinn's "Bridgerton" series, following its Netflix-adaption TV series debut in December 2020.
"Original series based on books and commissioned by the major streaming platforms now have the power to create bestsellers, similar to the way a box-office movie would have in the past," McLean said. "We are reaching an inflection point in the influence of these marquee projects to sell books, at least on the adult side of the market."
The rise of BookTok on TikTok
Book titles featured in BookTok videos, a hashtag used to share book-recommendation videos on the TikTok social media platform, have recently enjoyed an appreciable increase in sales. BookTok videos were viewed more than 7.3 billion times, as of April 2021. Backlist titles like "A Little Life," by Hanya Yanagihara, and "The Song of Achilles," by Madeline Miller, both received sales boosts in the first quarter of the year. In fact, "The Song of Achilles" sold 10 times the number of units in the first quarter of 2021, compared to the same time period last year. "While many BookTok videos are pushing young-adult titles onto bestseller lists, the phenomenon has also carried over into adult fiction," McLean said.
###
About NPD BookScan
NPD BookScan is the gold standard in point-of-sale tracking for the publishing market, covering approximately 85 percent of all the print books sold in the U.S. through direct reporting from all major retailers including Amazon, Barnes & Noble, Walmart, Target, independent bookstores, and many others. Each sale of the more than 13 million units tracked on a weekly basis includes geographic information making it possible to identify key markets, map regional sales trends, and index the likelihood of purchase in 200 major metro areas. NPD BookScan is also the exclusive provider of ALR data for Barnes & Noble, Target, Walmart, and Sam's Club to U.S. publishers.
About The NPD Group, Inc.
NPD offers data, industry expertise, and prescriptive analytics to help our clients grow their businesses in a changing world. Over 2,000 companies worldwide rely on us to help them measure, predict, and improve performance across all channels, including brick-and-mortar, e-commerce, and B2B. We have services in 19 countries worldwide, with operations spanning the Americas, Europe, and APAC. Practice areas include apparel, appliances, automotive, beauty, books, B2B technology, consumer technology, e-commerce, fashion accessories, food consumption, foodservice, footwear, home, juvenile products, media entertainment, mobile, office supplies, retail, sports, toys, and video games. For more information, visit npd.com. Follow us on Twitter: @npdgroup.