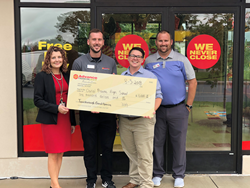 JONESBOROUGH, Tenn. (PRWEB) August 16, 2018
Nashville-based financial services company Advance Financial cut the ribbon on August 3rd at the company's newest store in Tennessee, located in Jonesborough. To mark the occasion, the Advance Financial Foundation donated $1,000 to Daniel Boone High School in Jonesborough.
"The communities surrounding our stores are extremely important to us," said Shantrelle Johnson, VP of corporate citizenship for Advance Financial. "Through the Advance Financial Foundation, we are able to provide extra support to those organizations working to make a difference in these regions. We are thrilled to make a contribution to Daniel Boone High School and help fund the educational programs they offer."
Started in 2014, the Advance Financial Foundation invests in the communities the company serves through support for local 501(c)3 organizations and community enrichment programs. The Foundation places a particular focus on enhancing education and health and wellness initiatives.
Advance Financial's new store is located at 406 Forest Drive. It is open 24/7 and offers a range of financial services including prepaid cards, electronic wire services to anywhere in the world, check cashing, FLEX loans, free bill-payment services and free money orders.
About Advance Financial
Founded in 1996, Advance Financial is a leading multi-state fintech company based in Nashville, Tennessee. Family owned and operated, the company is aggressively investing in the expansion of its market presence. In keeping with its vision of a world-class customer experience, Advance Financial is delivering instant lending decisions and brick-and-mortar money services 24/7/365. The company maintains an A+ rating from the Better Business Bureau and was named to the Inc. 5000 list of the fastest-growing private companies in the country for the sixth year in a row. For more information visit https://www.af247.com.