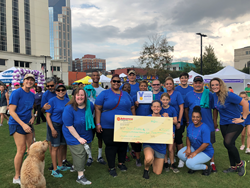 One of our company's core values is giving back to the community, and we were thrilled with our employees' response to the fundraiser this year.
NASHVILLE, Tenn. (PRWEB) October 16, 2018
Fintech company Advance Financial raised $25,025 for Best Buddies in Tennessee's Friendship Walk, almost tripling its 2017 contribution and more than doubling its original goal of $12,000.
"One of our company's core values is giving back to the community, and we were thrilled with our employees' response to the fundraiser this year. We all had so much fun taking a break from work and participating in the different fundraising activities together," said Tina Hodges, chief executive and chief experience officer at Advance Financial. "Through our employees' amazing support, we were named the top fundraiser of Best Buddies Tennessee's Friendship Walk, an amazing event that raises money to open pathways and opportunities for people with intellectual and developmental disabilities."
The company's fundraiser kicked off in August, with employees given the chance to wear t-shirts, hats and jeans to work in exchange for a donation. The company also participated in penny wars and scheduled ice cream and potato bars, pancake breakfasts and hot dog luncheons that employees could participate in by donating. An online silent auction, containing prizes such as a golf outing, Tennessee Titans gear and themed baskets, was also organized. Advance Financial's charitable arm, the Advance Financial Foundation, matched the money raised by employees.
"Advance Financial has been an amazing supporter of Best Buddies in Tennessee for many years by being one of our Best Buddies Jobs Program employers and walking as a Corporate Team for our annual Best Buddies Friendship Walk," said Kendyl Ricketts, director of development at Best Buddies in Tennessee. "In 2017, they were our Top Corporate Fundraising team and this year, they went above and beyond anything that we could have ever imagined by raising over $25,000! Best Buddies Tennessee has never had a corporate team raise that much money, and we couldn't be more thankful for the support of this amazing company."
About Advance Financial
Founded in 1996, Advance Financial is a leading multi-state fintech company based in Nashville, Tennessee. Family owned and operated, the company is aggressively investing in the expansion of its market presence. In keeping with its vision of a world-class customer experience, Advance Financial is delivering instant lending decisions and brick-and-mortar money services 24/7/365. The company was named to the Inc. 5000 list of the fastest-growing private companies in the country for the seventh year in a row. The Nashville Business Journal also named Advance Financial as 2018's fourth fastest growing company in the Nashville market, and Forbes included the company on its 2018 list of Best Employers for New Graduates. For more information visit https://www.af247.com.