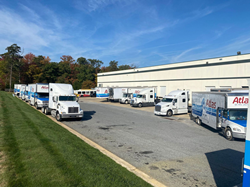 "We are constantly looking for ways to improve our services and provide the best possible experience for our clients. This expansion is just one more way we can do that. We are confident that this will have a positive impact on our ability to serve our clients." — President of ARS, Dalton Conklin
BALTIMORE (PRWEB) November 29, 2022
Advance Relocation Services (ARS), a leading moving company, has doubled their Specialized Transportation fleet. This expansion is in response to the company's continued growth and success, and it will have a positive impact on their ability to serve their clients. With the growth of this fleet, Advance Relocation Services is more equipped than ever to provide quality service and support during every stage of the moving process.
When it comes to moving specialty items, ARS is the go-to company. Their years of experience in the industry have taught them how to handle delicate and expensive products with care. From medical equipment to fine art, they know how to get the items from Point A to Point B without a scratch. With ARS, specialty items that travel with the smoothest ride possible include-

Medical equipment – ARS is an expert in ensuring a smooth transition for clients' life-saving tools. From large CT scanners to small IV pumps, their team works tirelessly to make sure the equipment arrives at its new destination intact and ready to be put back into use.
Art and Antiques – ARS uses special methods of packing & transporting these high value items in order to ensure they arrive damage-free on arrival.
Fine Art – The best way to move these prized items is with purpose-built shipping and the expertise to move them safely. ARS utilizes a method that allows these to hang while having all sides padded during transport.
Electronics – With ARS, electronics travel on full air-ride suspension. This method of transportation helps minimize G-force, shock, and vibration to ensure sensitive electronics travel with the smoothest ride possible.
Exhibits – The safe loading and unloading of the trade show props is the top priority of ARS. Their experts "know the drill" getting the client where the client needs to be on time, without incurring extra costs or delays.
Wine shipping – ARS understands the need for special care when shipping and handling wine collections.
The expanded fleet has all the features needed to handle any move, local or long-distance, including climate-controlled moving to ensure that items are transported safely and securely. This protects transported items from damage due to changing temperatures, and has the ability to maintain the perfect temperature for every item transported. This ensures client satisfaction and peace of mind.
Ensuring that the new trucks also came equipped with the latest in liftgate technology was key in order to streamline the delivery process and keep everyone on site safe. By using liftgates, ARS reduces the amount of time needed to unload items, making it a more efficient and safer operation. This also increases the ability to reduce workplace injuries, making the new upgraded liftgates popular with both clients and staff alike.
About Advance Relocation Systems… they are a family-owned and operated Atlas Van Lines agent with more than 50 moving vans and a 62,000 square-foot warehouse storage facility. They have earned the Milt Hill Quality award every year since 2004. This award is evidence of their commitment to quality service and excellence. The Milton M. Hill Quality Award is dedicated to the memory of Atlas Director Milt Hill whose commitment to quality and professionalism left a lasting influence on Atlas Van Lines. It is awarded every year to Atlas agents who have proven their exemplary quality of service by displaying outstanding dedication to professionalism and quality. With experience in moves of all sizes, Advance Relocation Systems has the capability and equipment to handle any size and type of relocation—from residential moves to military relocations to commercial moves and more.