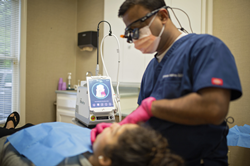 At Advanced Dental we are always striving to provide the best treatment for our patients by utilizing the latest technology which minimizes the pain and improves the comfort for our wonderful patients
SOUTHAVEN, Miss. (PRWEB) February 23, 2021
Individuals in Desoto County and Memphis suffering from gum disease and other dental ailments can get treated with laser gum surgery. They can now receive BIOLASE WaterLase™ treatments for their dental problems from the Advanced Dental Implant and TMJ Center. Dr. Adatrow is qualified to utilize the minimally invasive BIOLASE WaterLase™ system to treat many dental conditions without causing excessive pain to the patient or injecting them with large amounts of anesthetic.
Dr. Adatrow now offers BIOLASE WaterLase™ treatments as an alternative to traditional oral surgery to patients interested in treating their dental ailments with laser treatment. Patients looking for a dentist who knows how to minimize patient discomfort are invited to schedule a consultation and learn more about this unique laser-based treatment system. The BIOLASE WaterLaseTM device's unique technology allows minimal vibration or pressure to cut through soft gum tissue or even hard bone tissue.
Dr. Adatrow can often utilize the BIOLASE WaterLase™ system while administering less or no anesthesia due to the uniquely gentle way in which the laser operates. In some cases, patients do not need to receive any anesthetic at all. They are quite comfortable going through entire dental procedures when the BIOLASE WaterLase™ machine is utilized. Those who suffer from anxiety due to past dental experiences or fear of needles are more likely to feel calm and relaxed when receiving treatment with the gentle WaterLase™ system. Studies have shown that Laser-based dental care causes less swelling and bleeding at the treatment site. Patients have been shown to recover more quickly when laser treatments are utilized instead of traditional dental treatment methods.
Studies have proven that laser dentistry has a better success rate when compared to conventional dental treatment. This can be attributed to the precision and sterile nature of the laser tip. Hence, Dr. Adatrow wanted to provide the benefits of laser dentistry to the communities of Southaven, Hernando, and Olive Branch of Desoto County, Mississippi, and Memphis, Shelby County, Tennessee.
Patients of Shelby County, TN and Desoto County, MS are encouraged to visit the website of Dr. Adatrow to schedule appointments for laser treatments.
About the Dental Practice
Advanced Dental Implant and TMJ Center provides personalized and specialized dental treatment for patients in Desoto County, MS, and Memphis, TN. Dr. Pradeep Adatrow is a Specialist in Dental Implants and Gum Diseases and provides patients with customized treatment plans to meet their oral health needs. Dr. Adatrow is the only practicing board-certified Periodontist and Prosthodontist in the South East United States. He earned his Doctor of Dental Surgery and Post Graduate Prosthodontic Training from the University of Tennessee College of Dentistry and his Post Graduate Training in Periodontics from Indiana University. Dr. Adatrow is board certified by the American Board of Periodontology and is a Fellow of the prestigious International College of Dentistry. Along with a devoted team of dental hygienists, assistants, and administrative staff, we strive for customer satisfaction excellence. Please visit our website at https://advanceddentaltmj.com or call us at (662) 655-4868 to schedule a consultation.